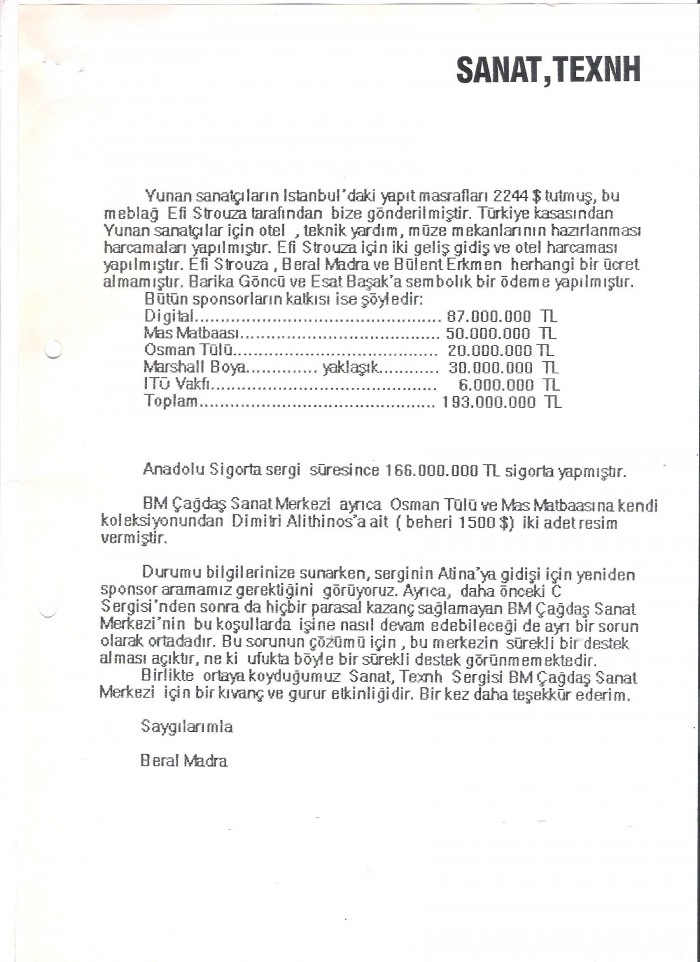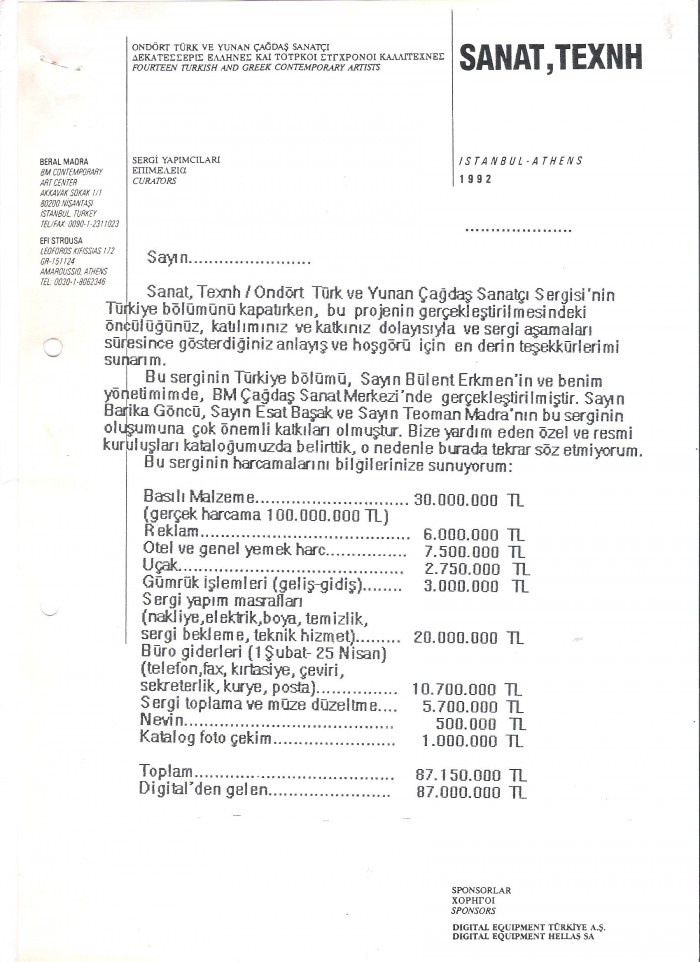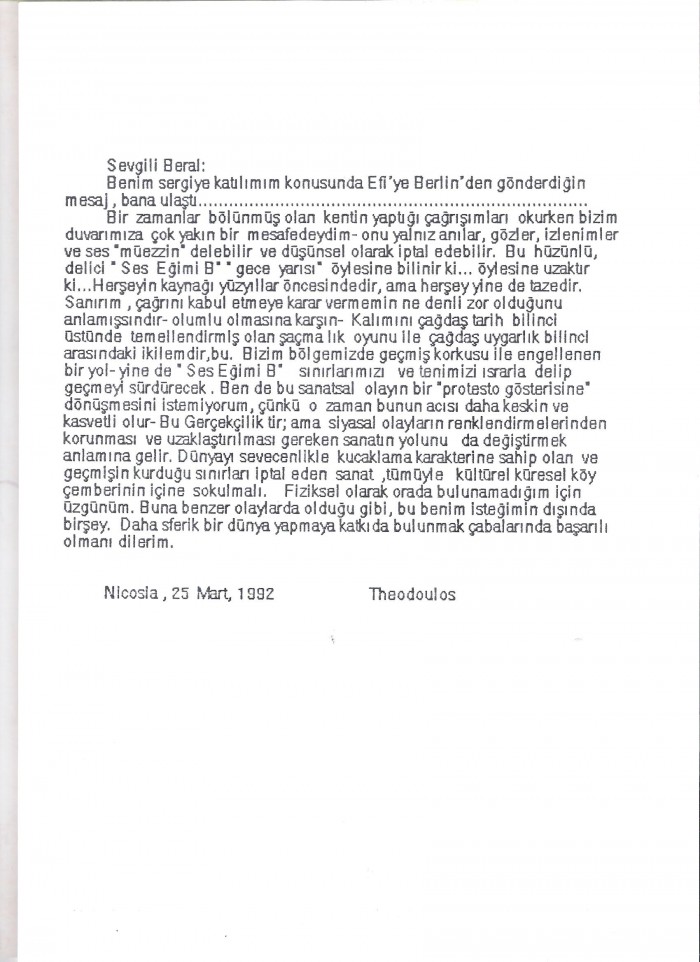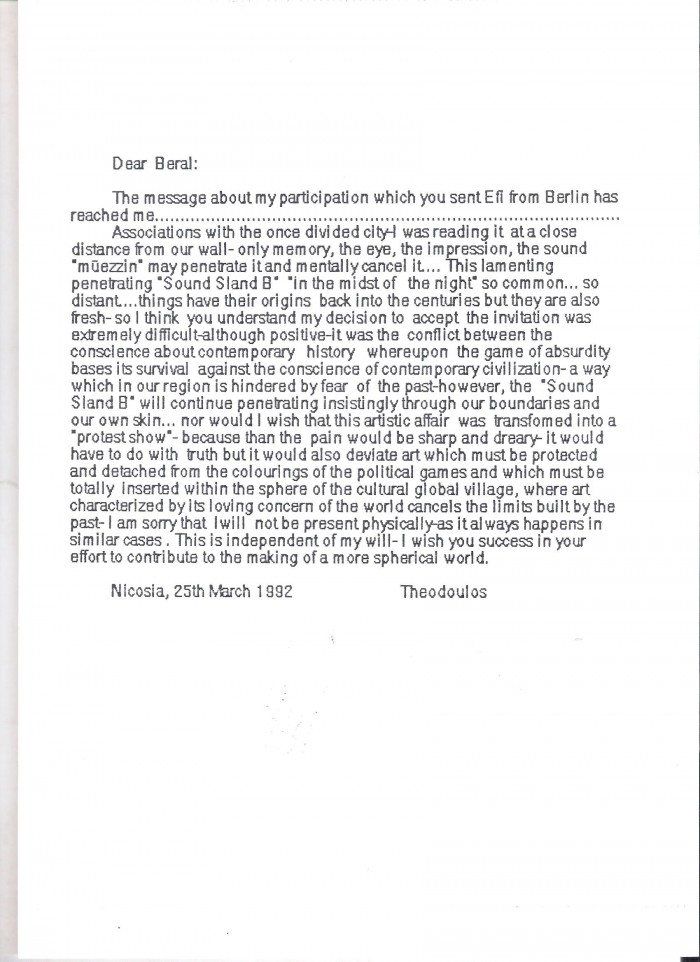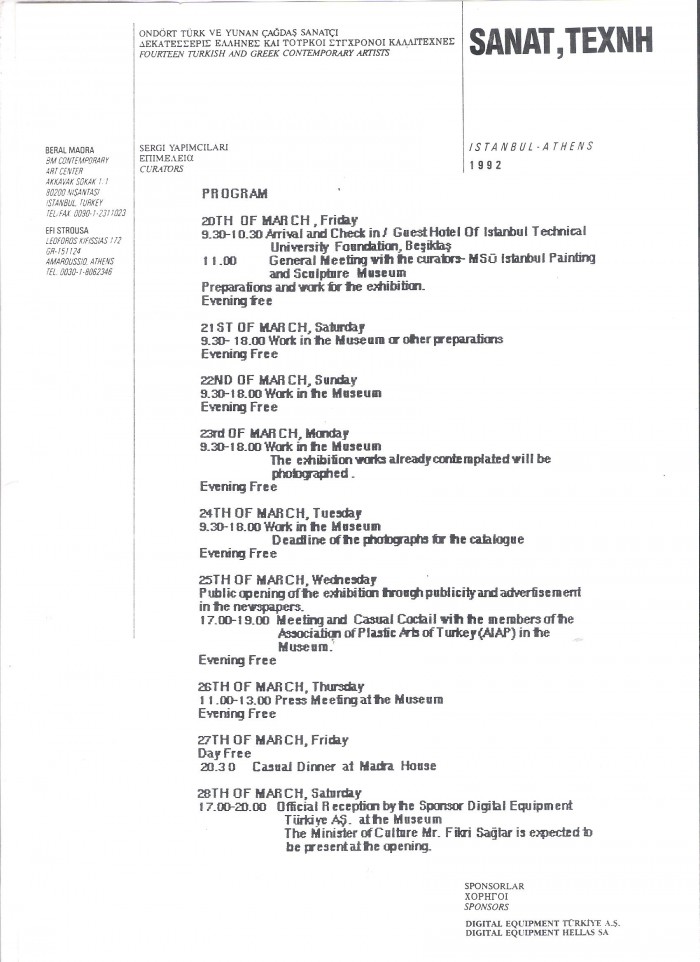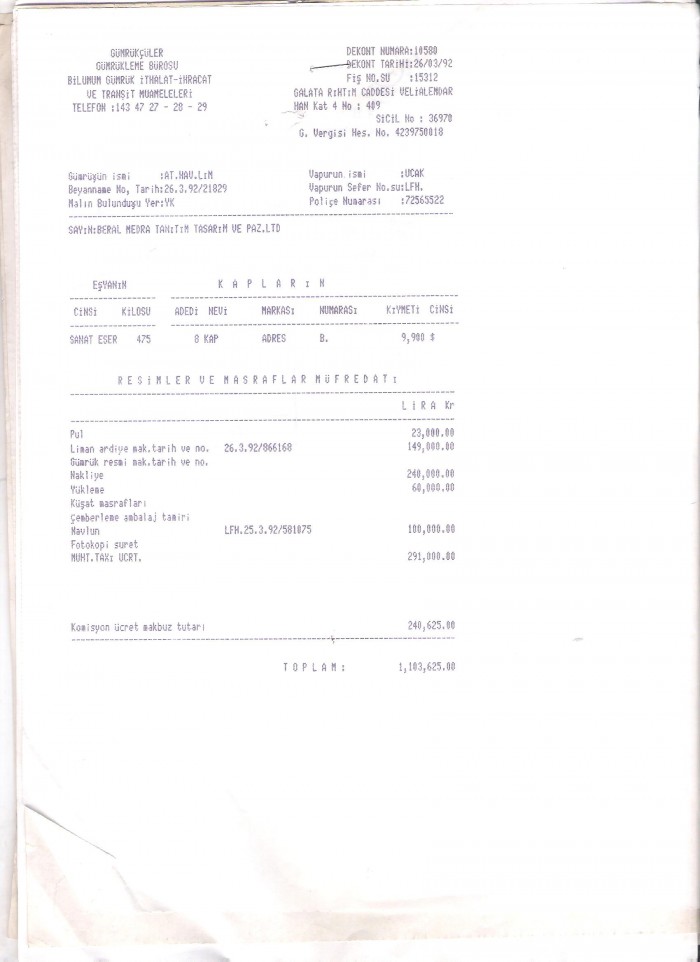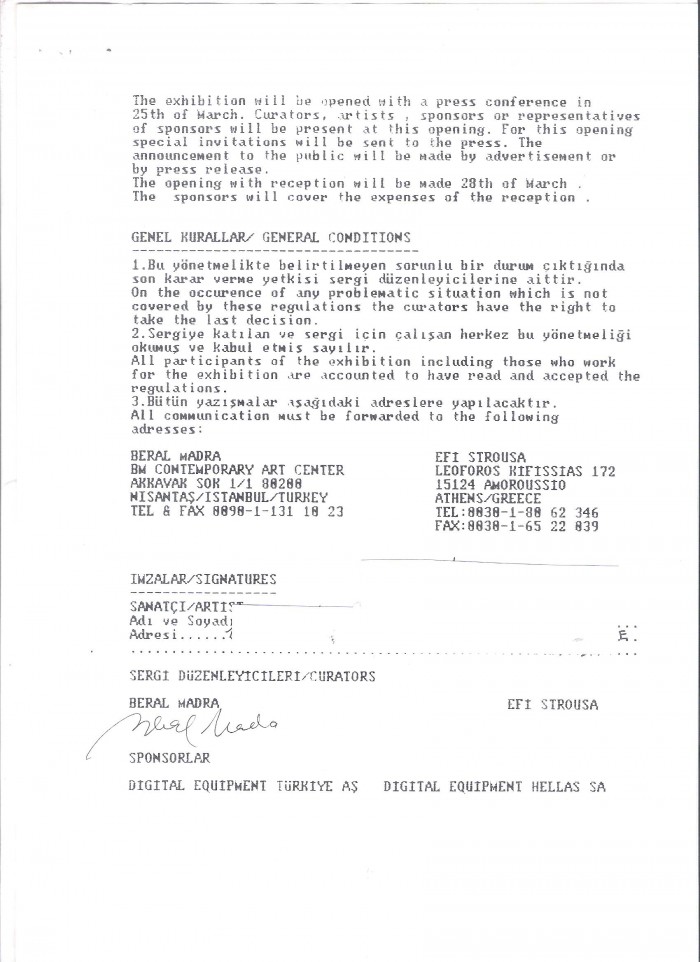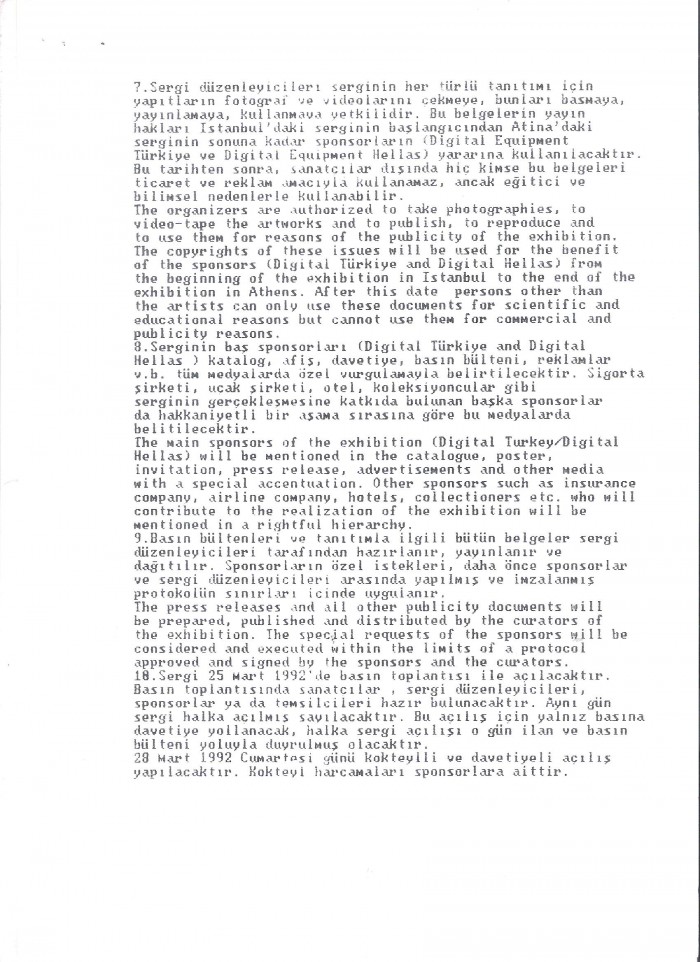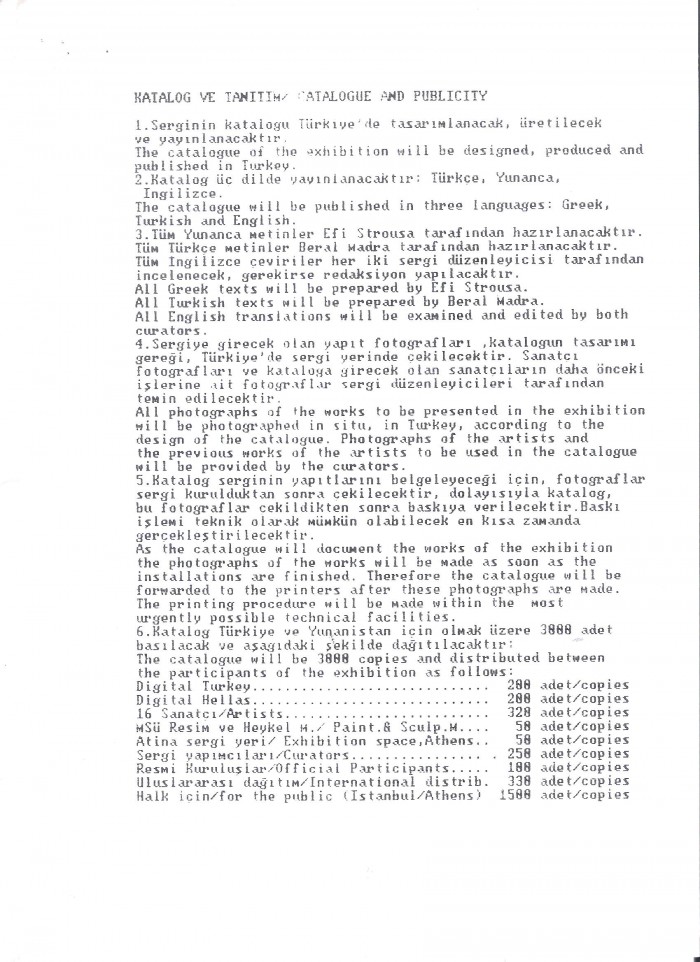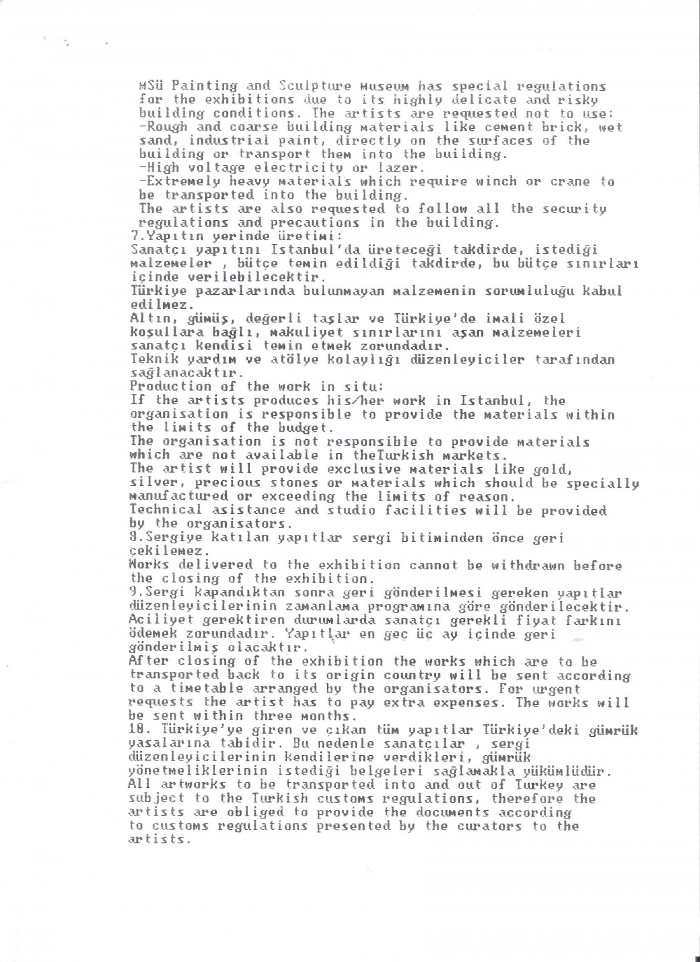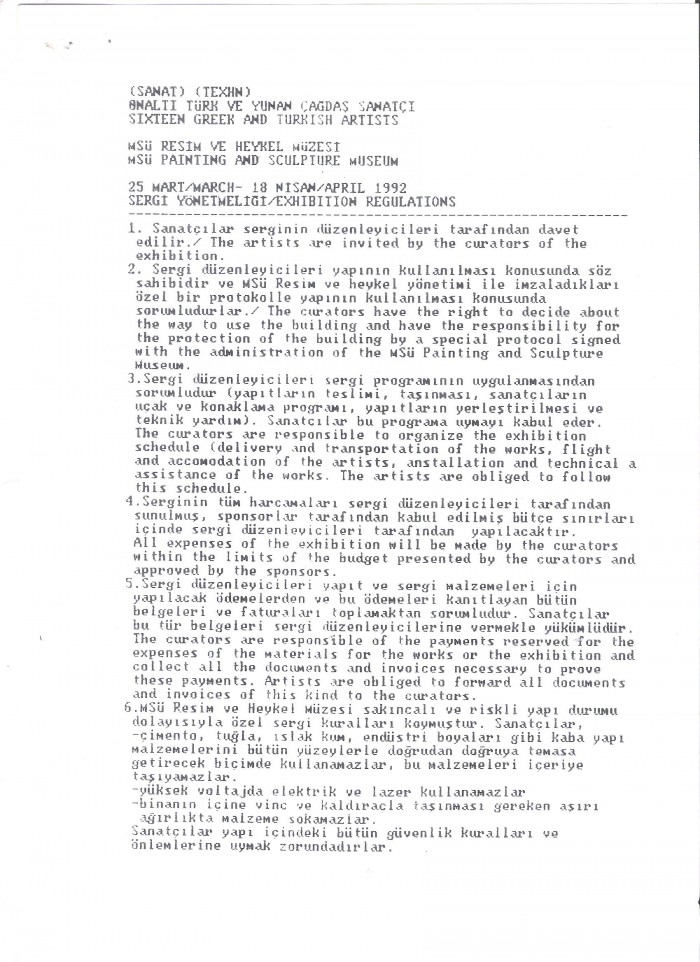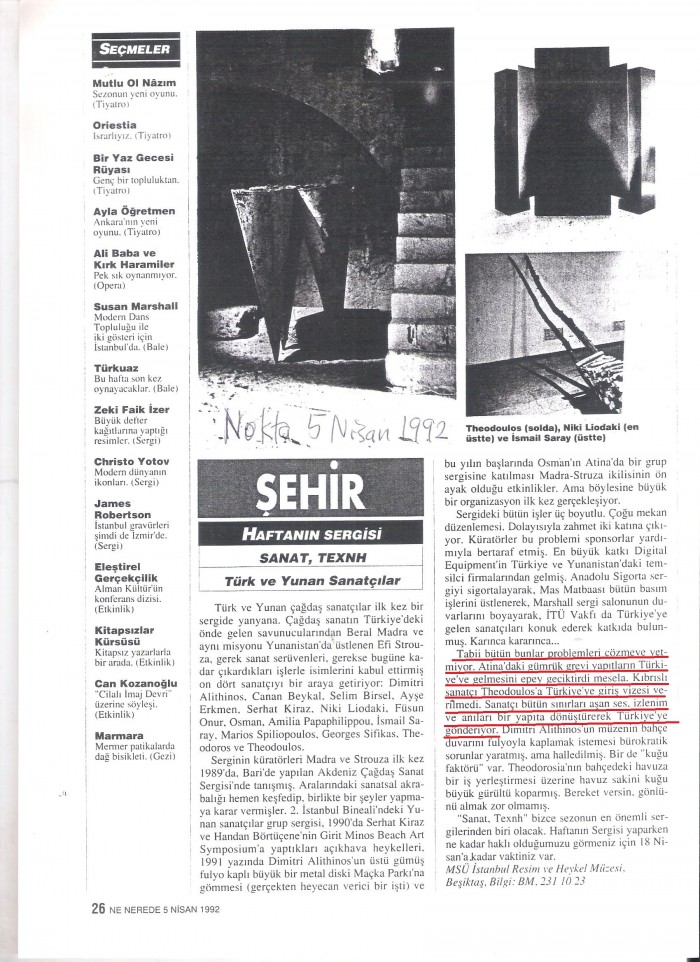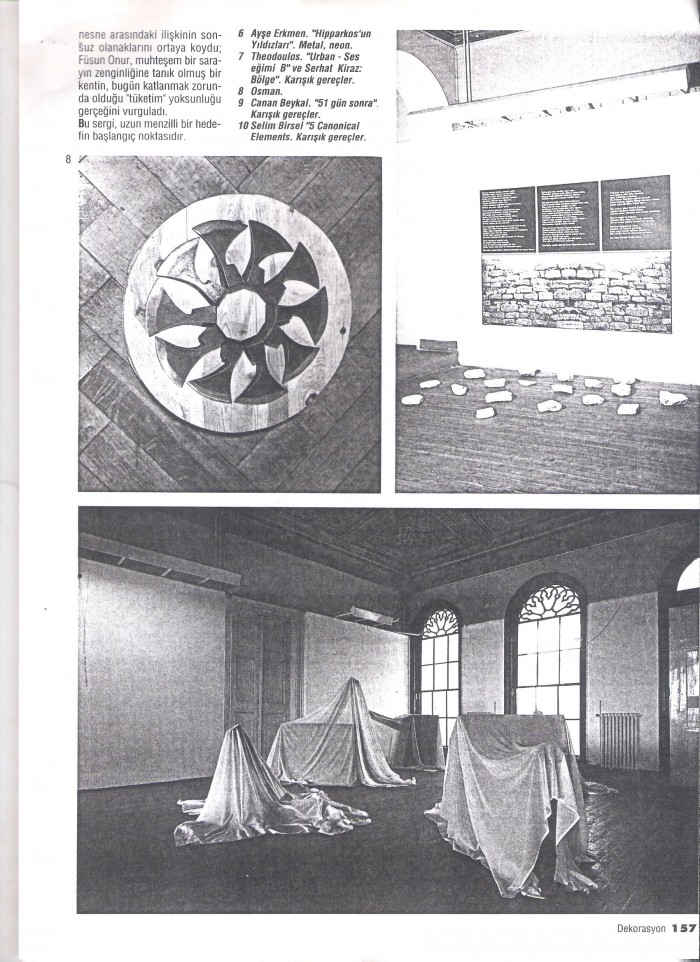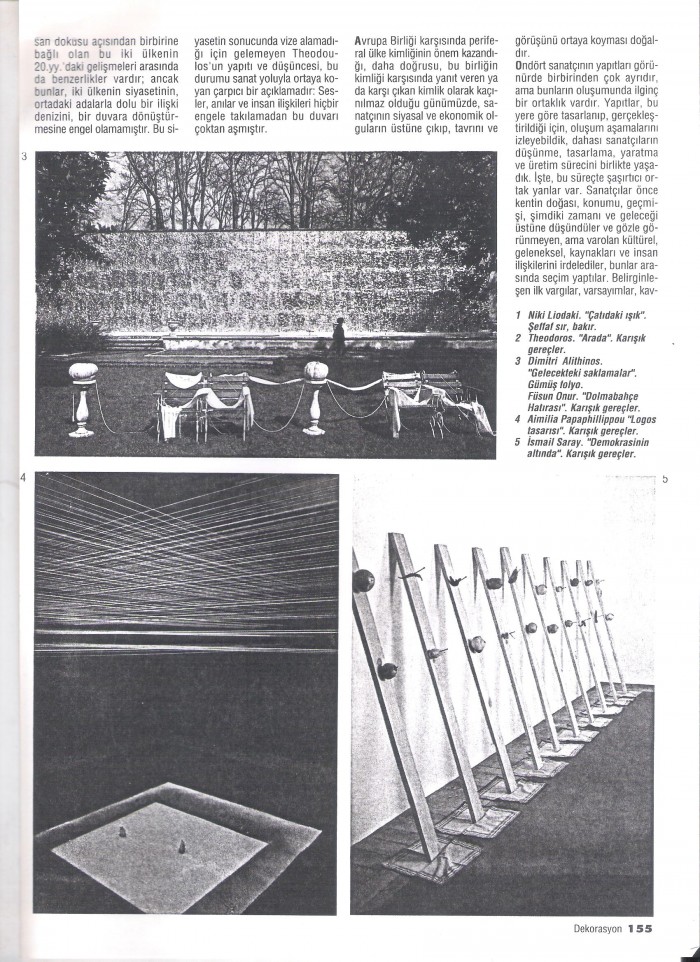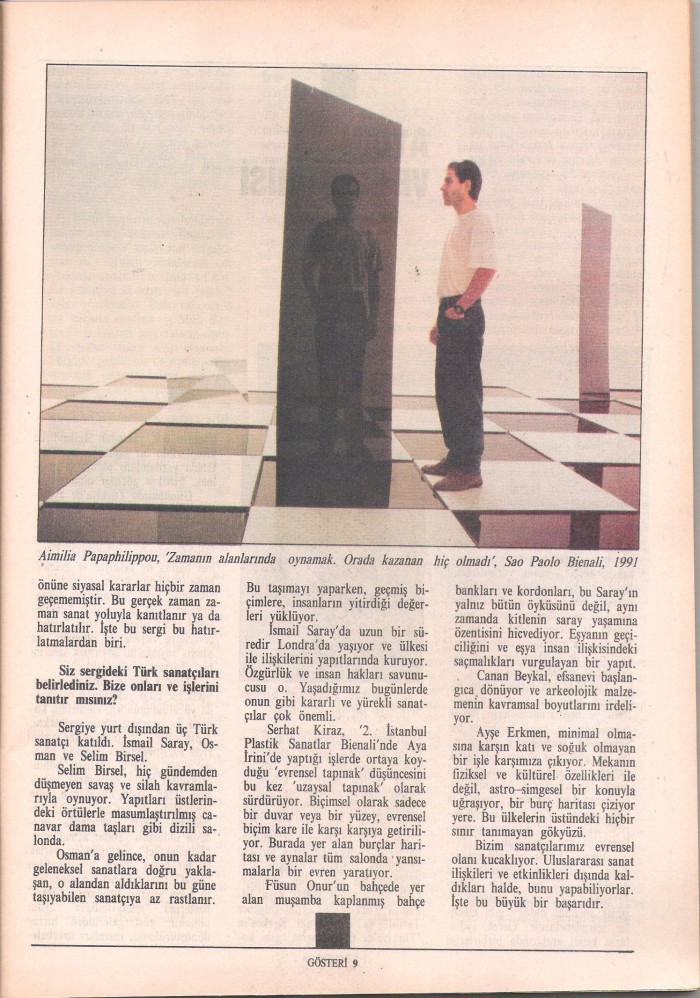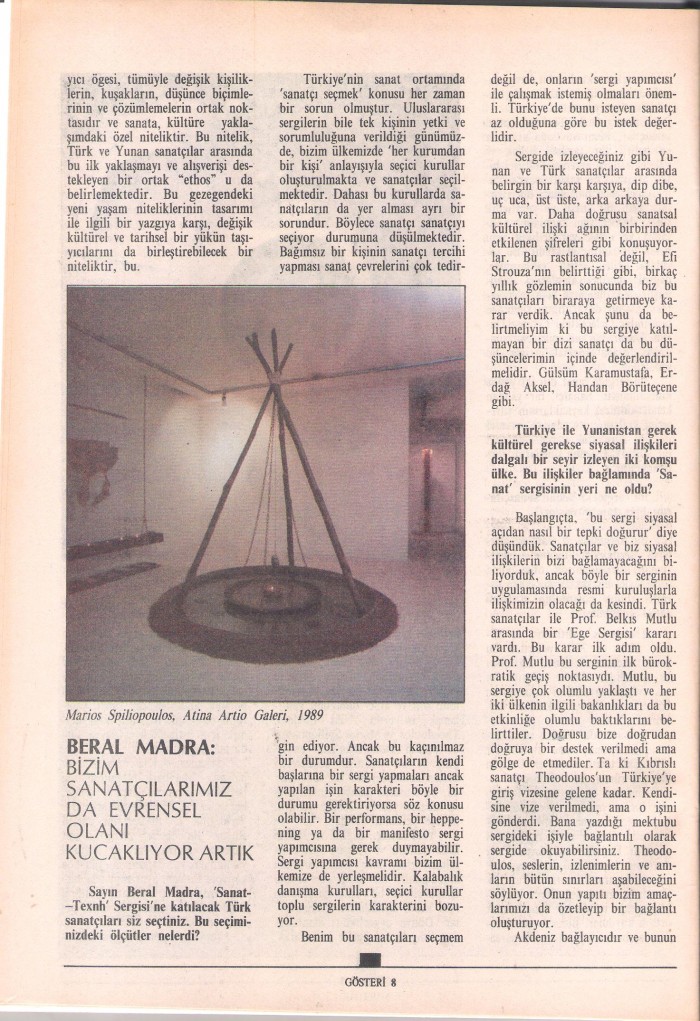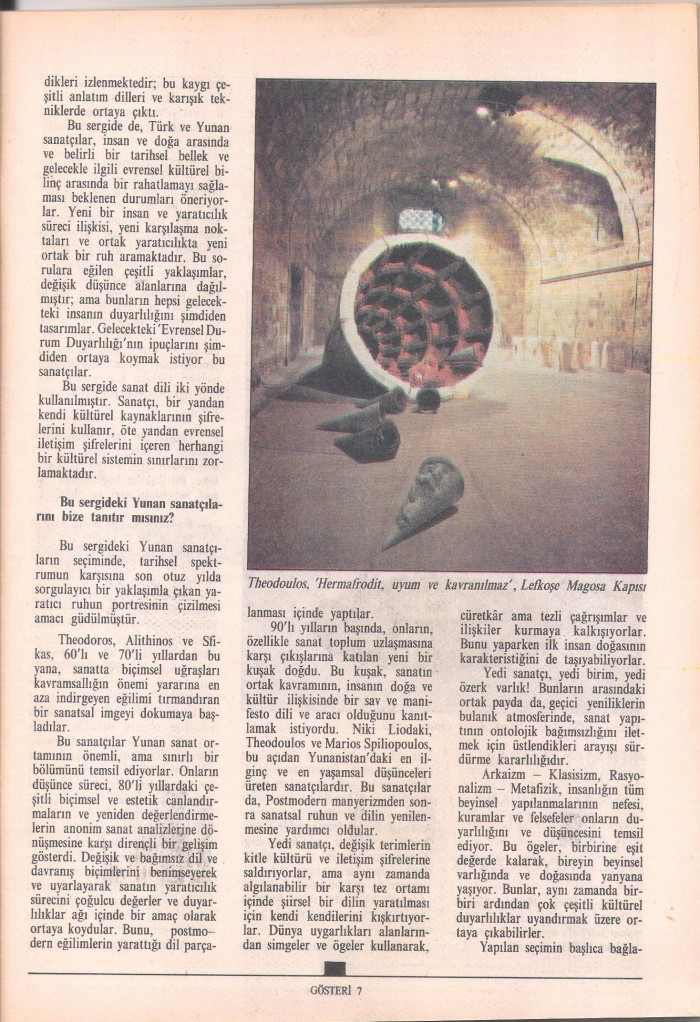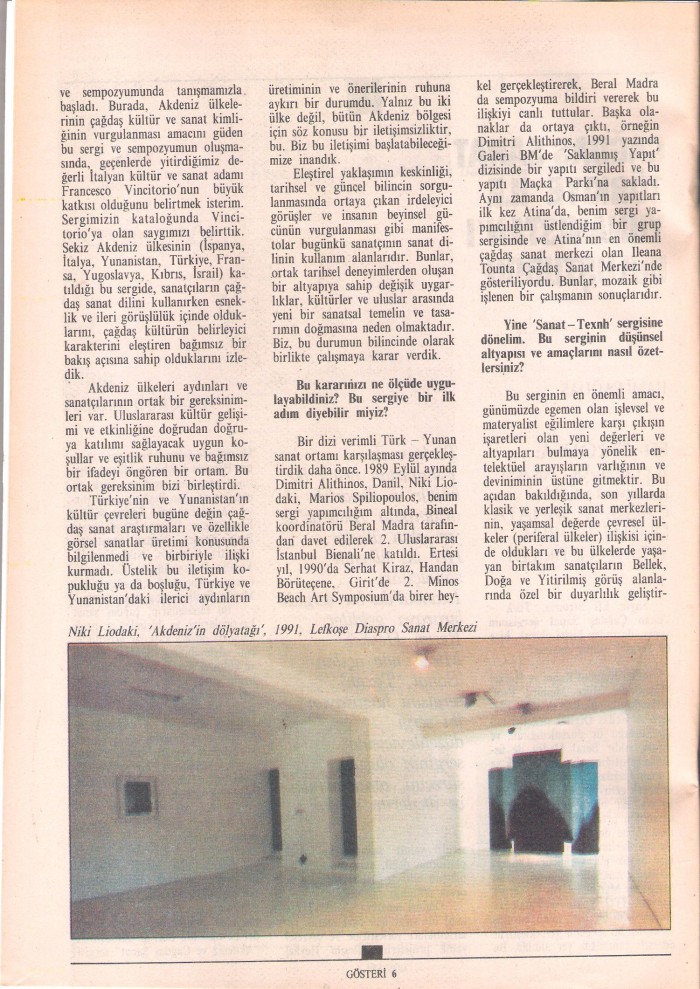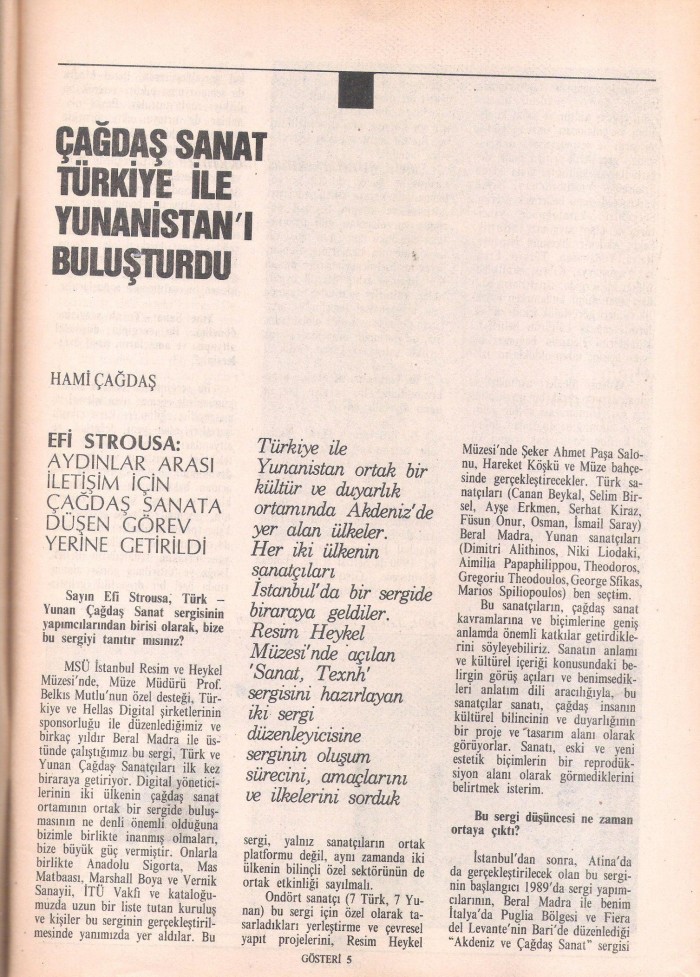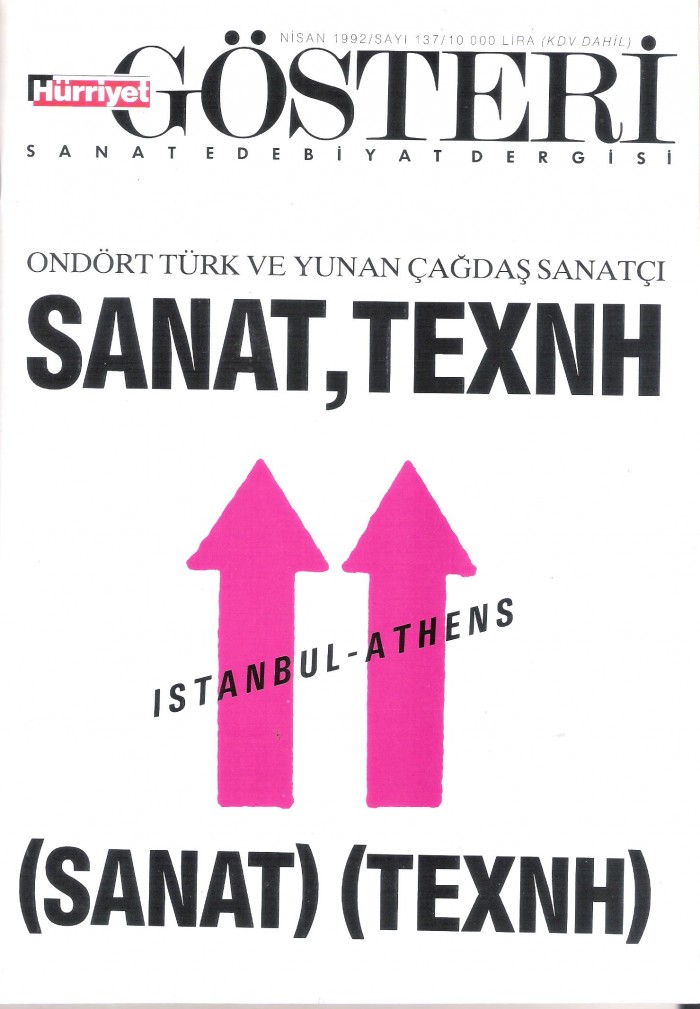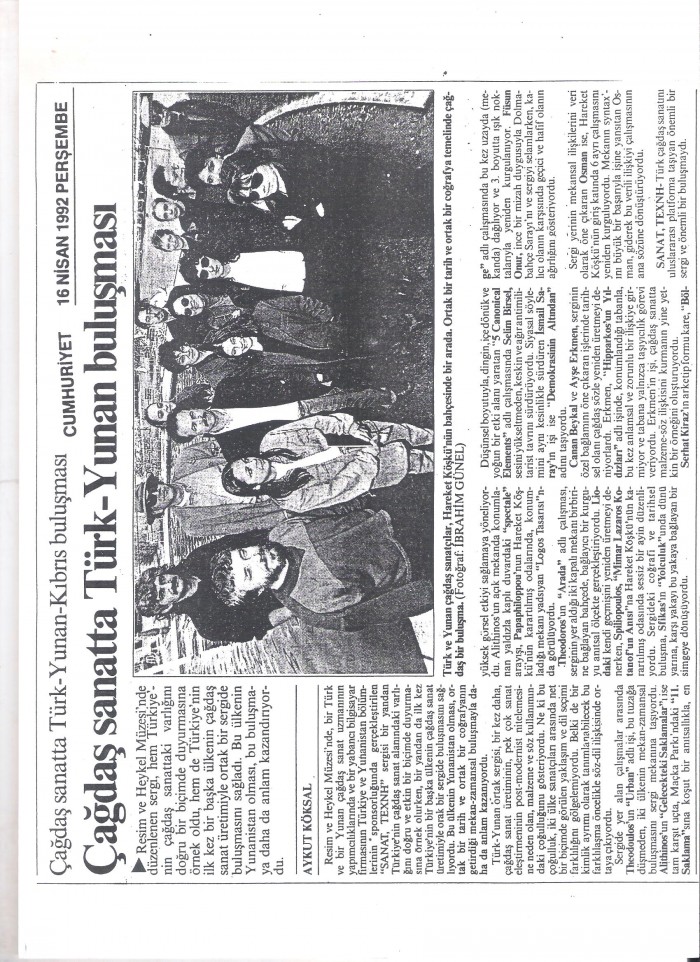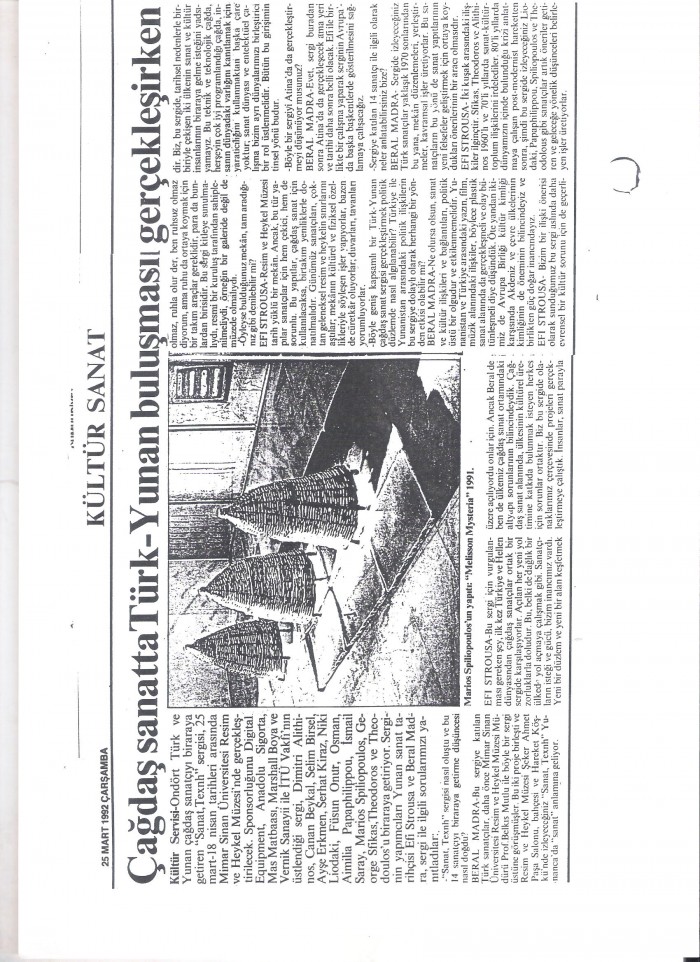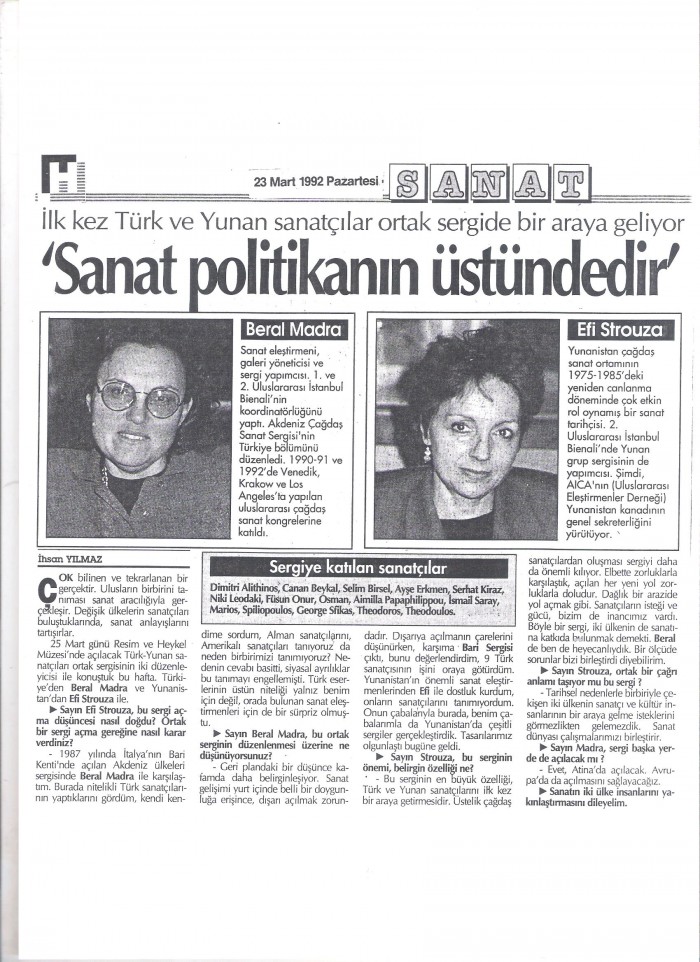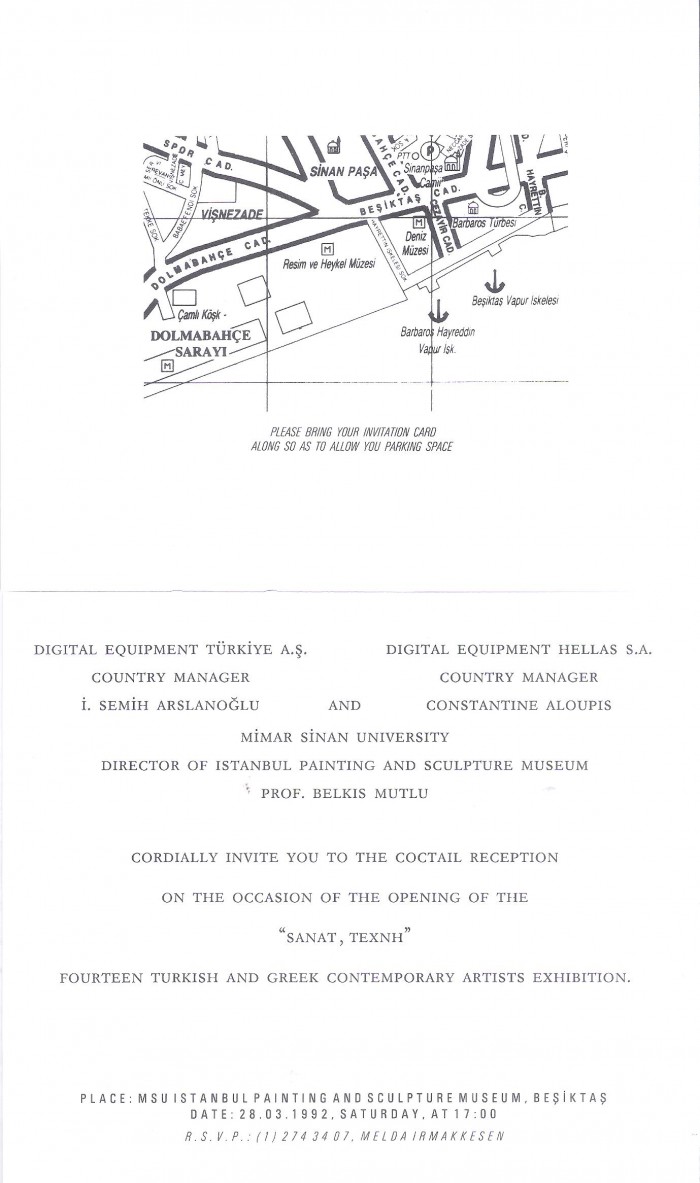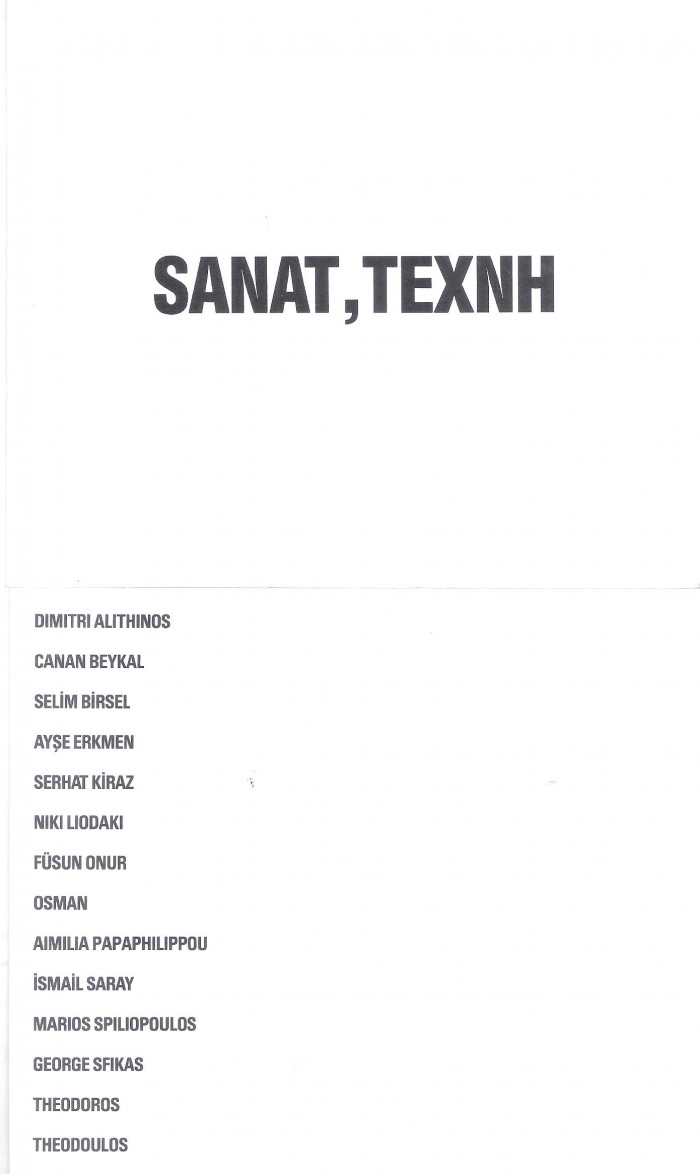 SANAT,TEXHN
FOURTEEN GREEK AND TURKISH CONTEMPORARY ARTISTS
ONDÖRT TÜRK VE YUNAN ÇAĞDAŞ SANATÇI
MSÜ PAINTING AND SCULPTURE MUSEUM/RESİM VE HEYKEL MÜZESİ
25 MARCH/MART-18 APRIL/NİSAN 1992
ARTISTS/SANATÇILAR: DIMITRI ALITHINOS, CANAN BEYKAL, SELİM BİRSEL, AYŞE ERKMEN, SERHAT KİRAZ, NİKİ LİODAKİ, FÜSUN ONUR, OSMAN, AIMILIA PAPAPHILIPPOU, İSMAİL SARAY, MARIOS SPILIPOULOS, GEORGE SFIKAS, THEODOROS, THEODOULOS
CURATORS/KÜRATÖRLER: EFI STROUSA, BERAL MADRA
SPONSORS: DIGITAL EQUIPMENT TÜRKİYE AŞ/ HELLAS SA
The aims and goals of this exhibition are to initiate and maintain a communication between the artists and public of both countries;  to show the public a representative image of the two generations of Greece and Turkey, who were responsible for the more advanced research in the visual language during the last thirty years; to investigate the common orientations as well as the specific aspects of the cultural sensibility of Greek and Turkish artists; to promote to the international art scene the actual aspects of the artistic quests in Greece and Turkey; to enchance the specific quality of conceptual perception of art which both Greek and Turkish artists adopt and elaborate in relation to their deeper cultural origins and with respect to universal values of nature and civilisation; to offer a new measure of evaluation of the quality of the aesthetics and ideological positions of the artists which is expressed in 20th century as a sign of future cultural sensibility of 21st century.
Please look at the scanned documents for further details and texts.
Yunanistan ve Türkiye'deki sanatçılar ve izleyiciler arasında bir iletişim başlatmak ve sürdürmek; iki ülkenin halkına Yunaistan ve Türkiye'de son otuz yıllık dönemde görsel dilin gelişimci araştırmasından sorumlu olan iki kuşağın temsili bir kesitini göstermek; söz konusu sanatçıların kültürel duyarlılıklarındaki özel bakış açılarını da incelemek; iki ülke arasında sanat arayışlarının gerçek özelliklerini uluslararası sanat ortamına tanıtmak; sanatçıların kültürel kaynaklarına inen ve evrensel doğa ve uygarlığa gönderme yapan uyarlama ve zenginleştirmeleri içeren kavramsal algılamalarının özel niteliklerini ortaya çıkarmak; iki ülkenin sanatçılarının 20.yy sonunda geleceğe, 21.yy'a yönelik kültür duyarlılıklarını ortaya koyan estetik ve idolojik pozisyonlarını değerlendirmek için yeni ölçütler sunmak bu serginin amacı ve hedefidir.
Ayrıntılı bilgi ve diğer metinler için taranmış belgelere bakınız.