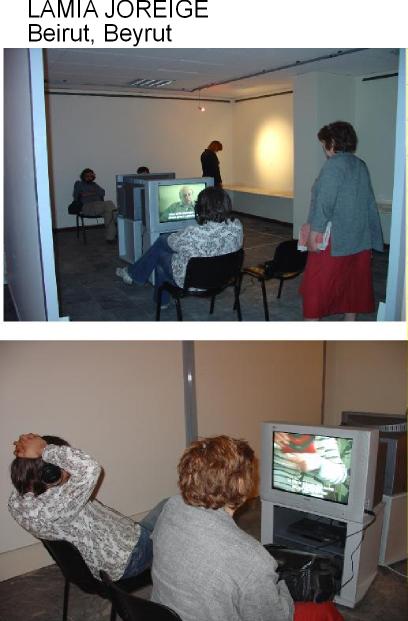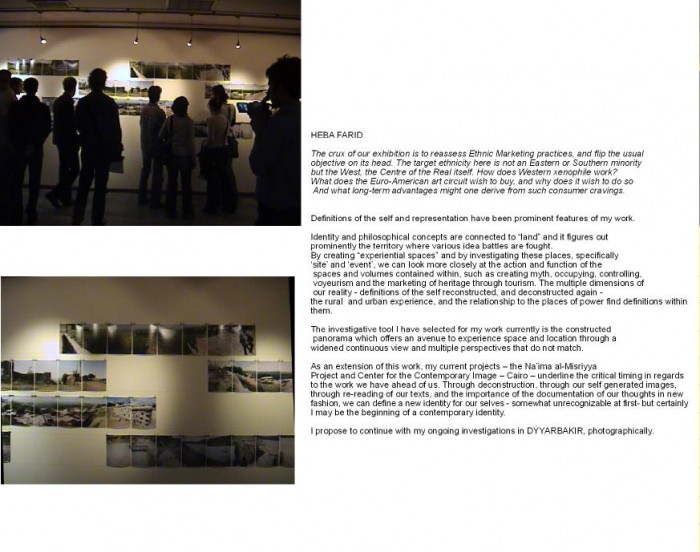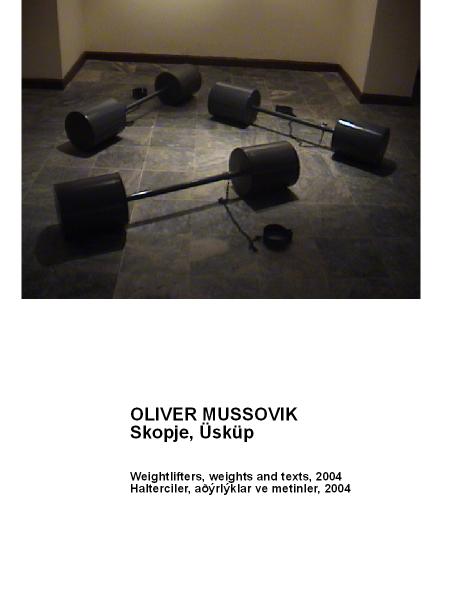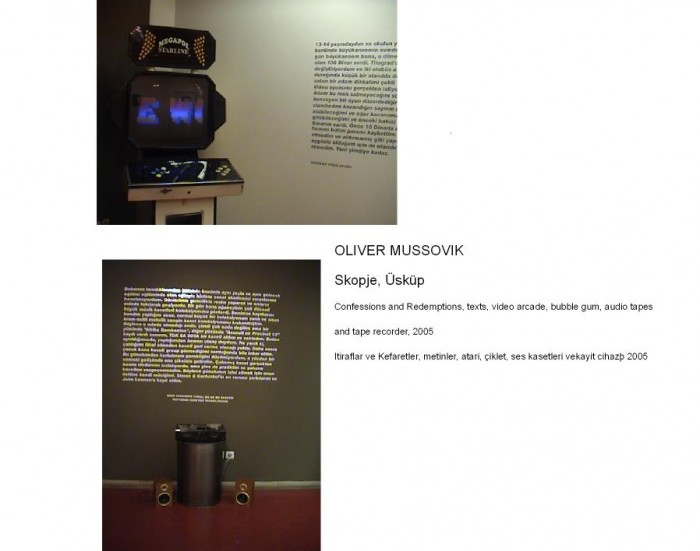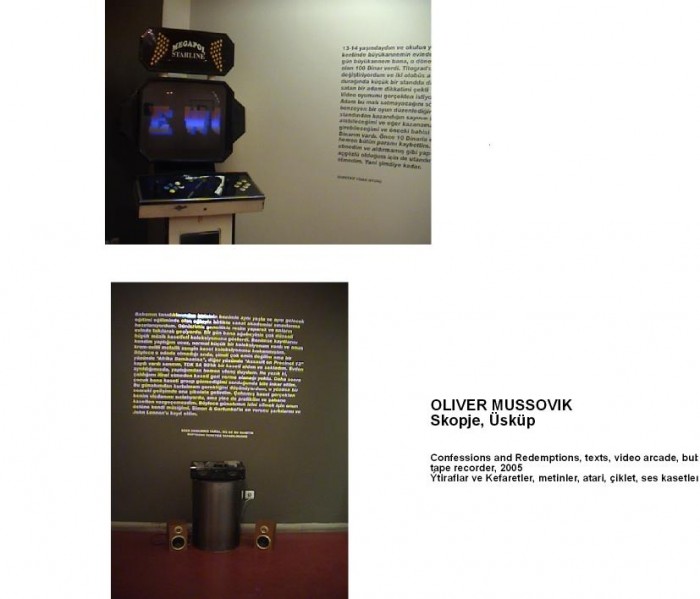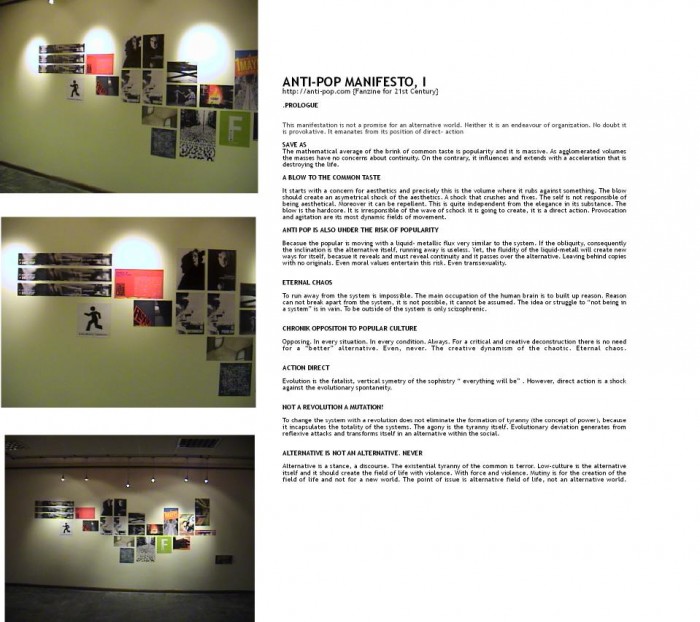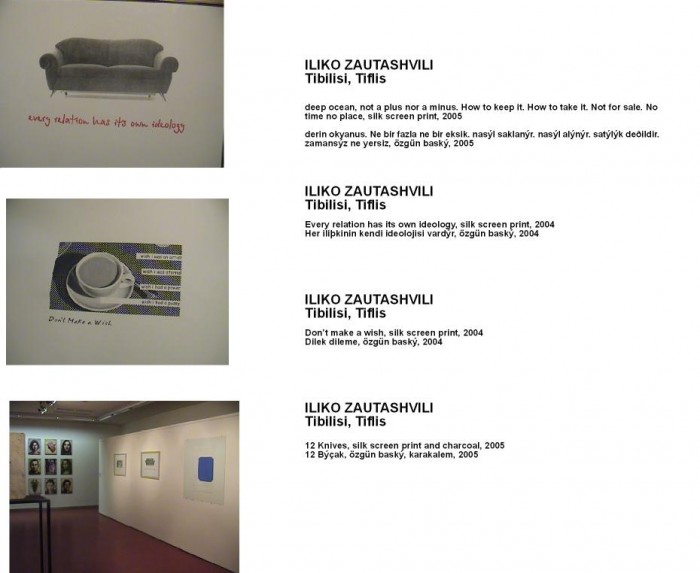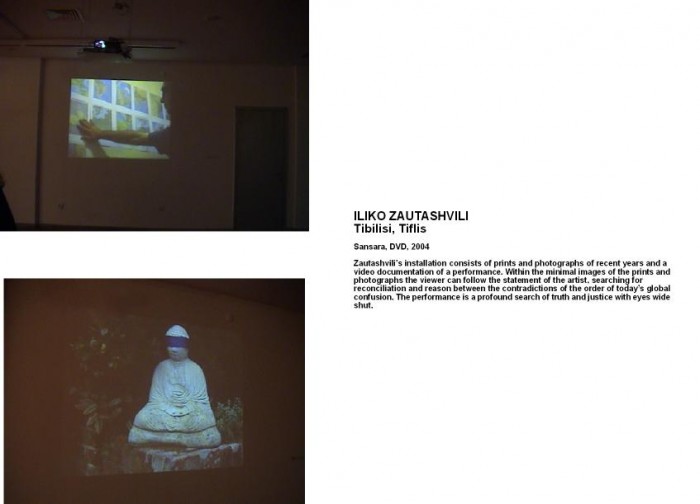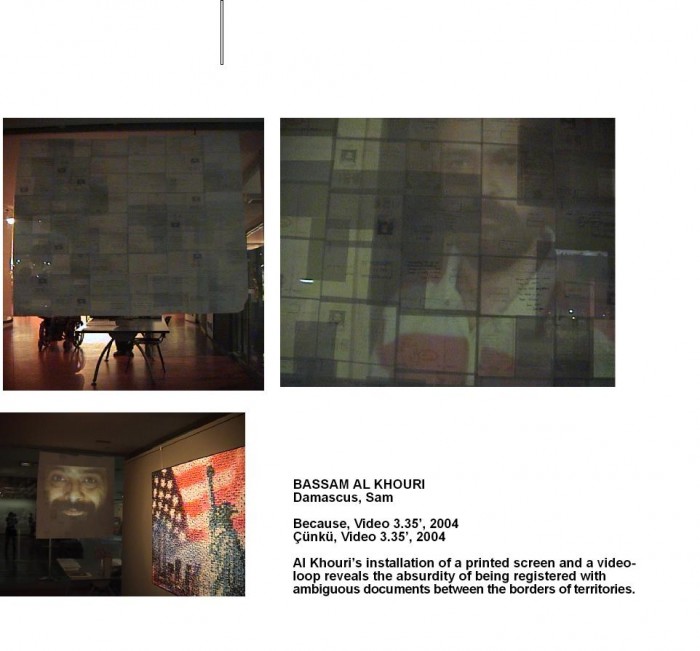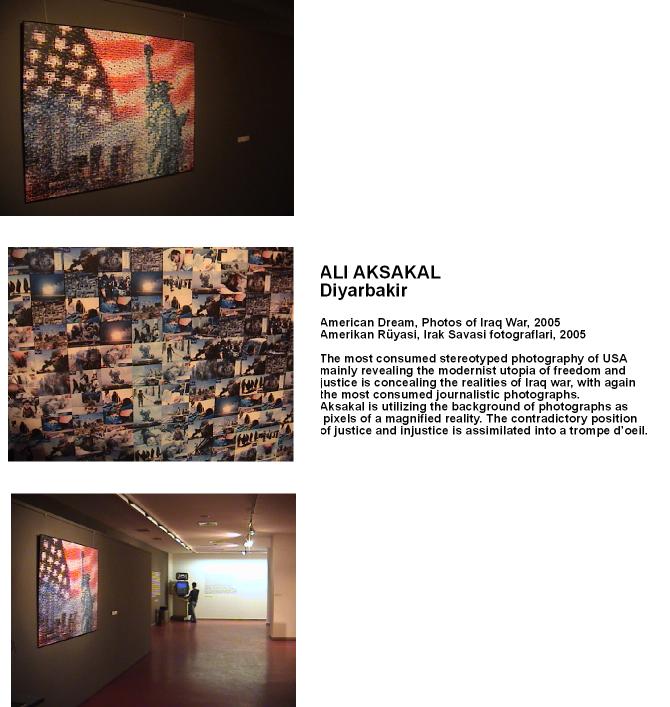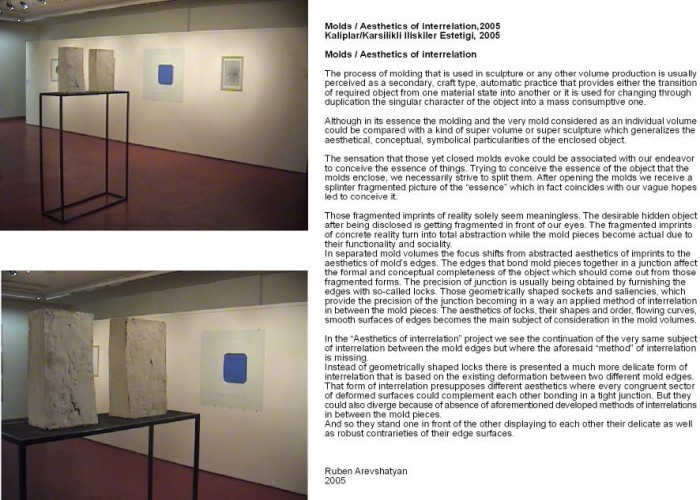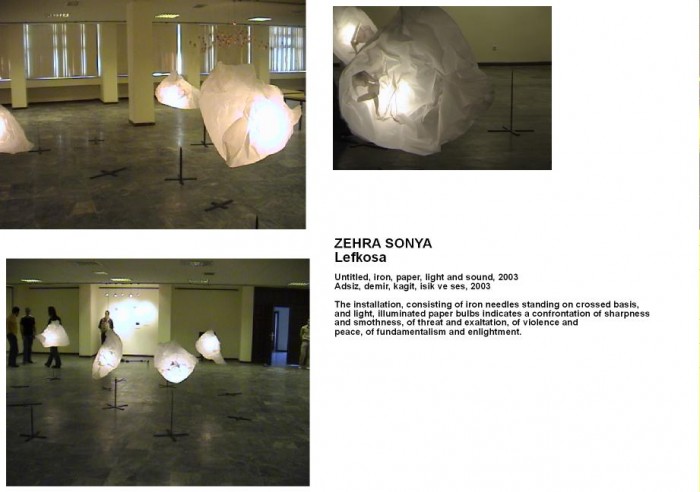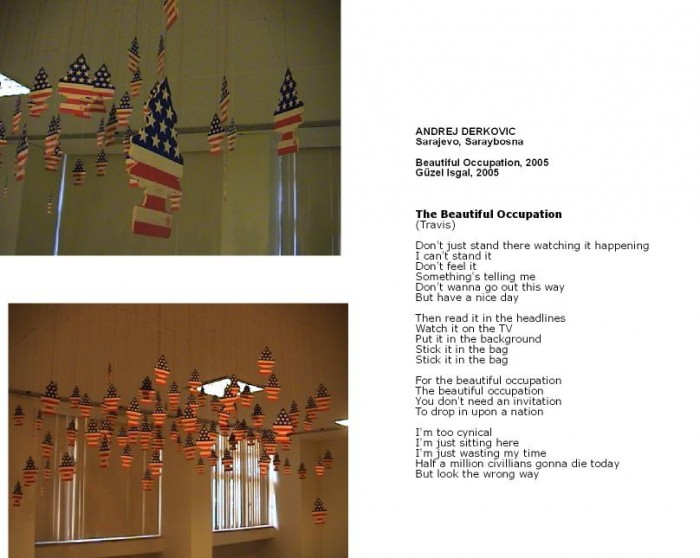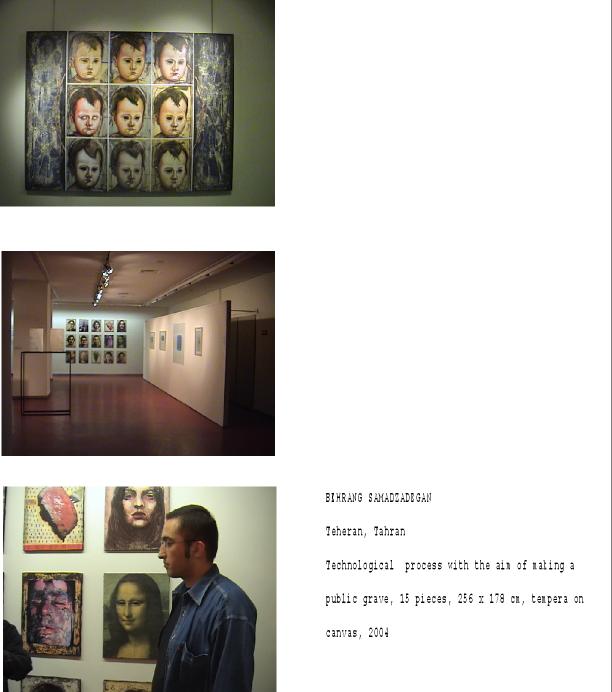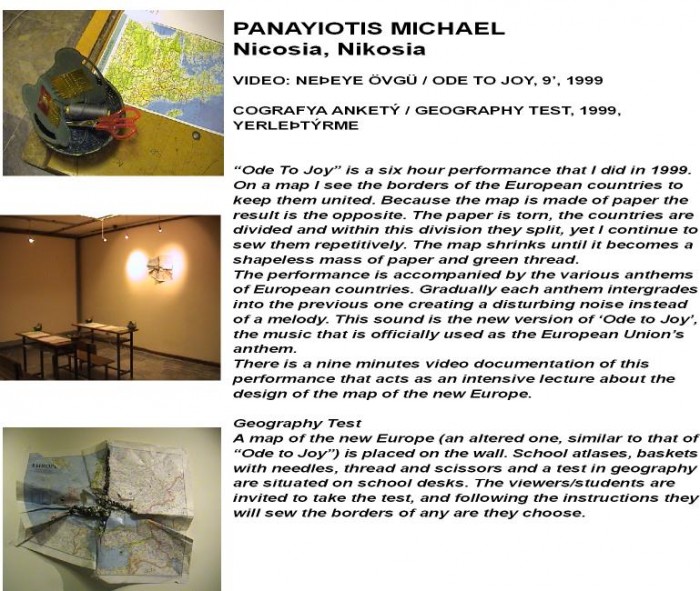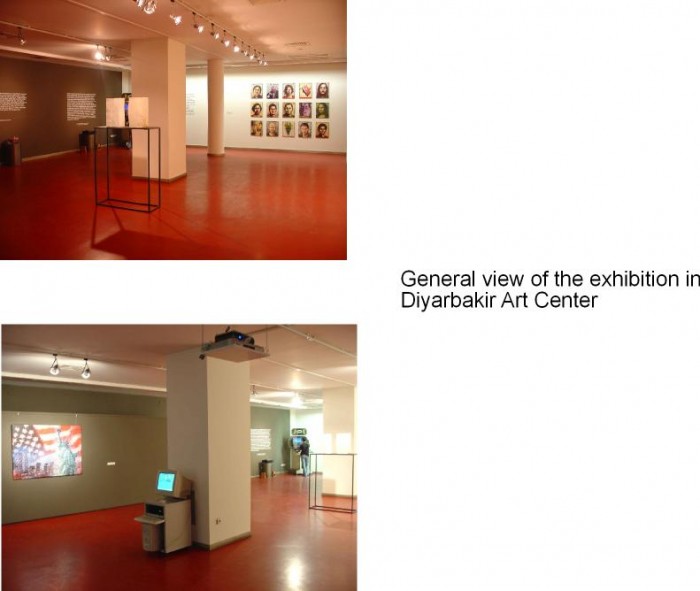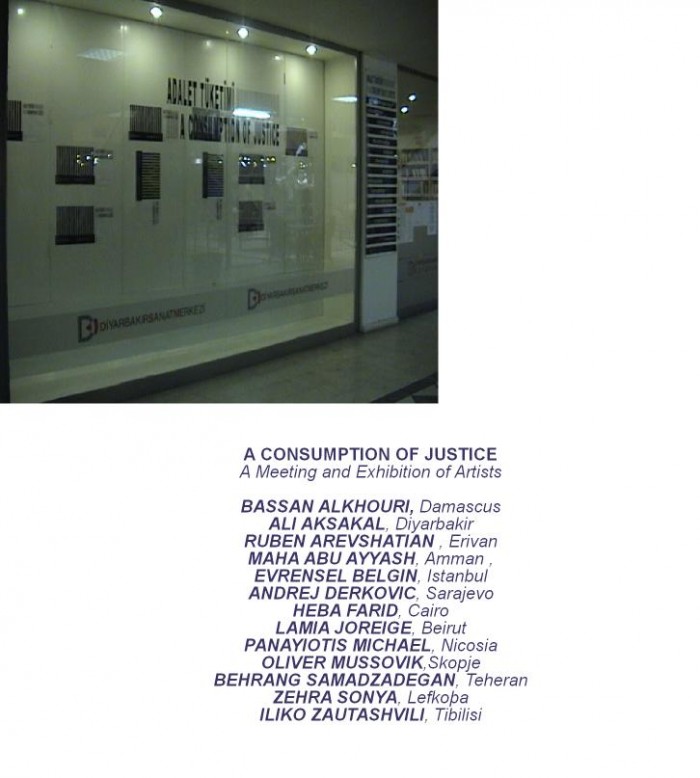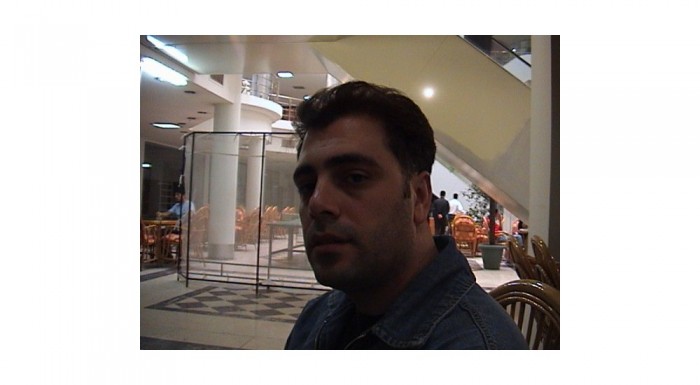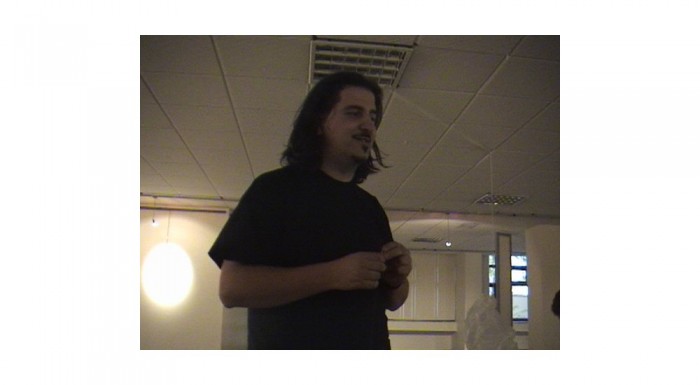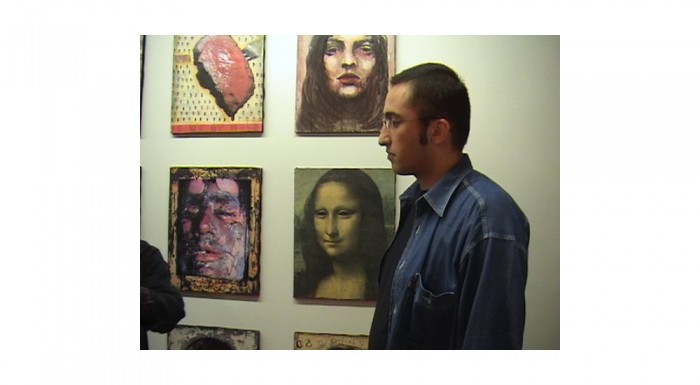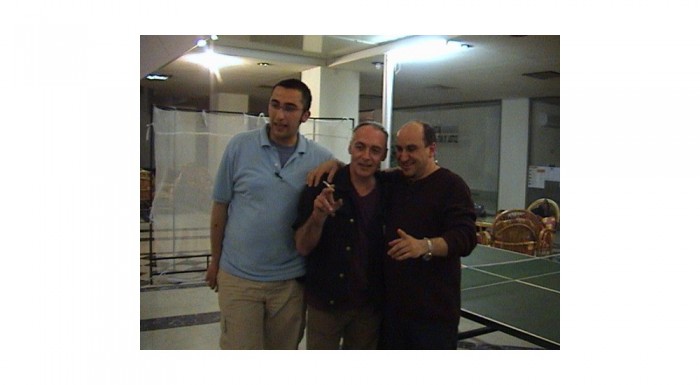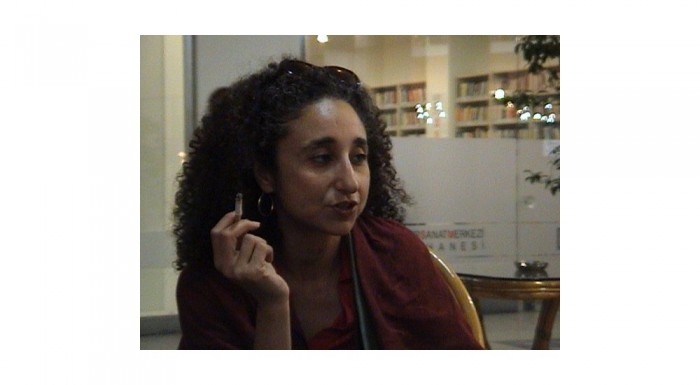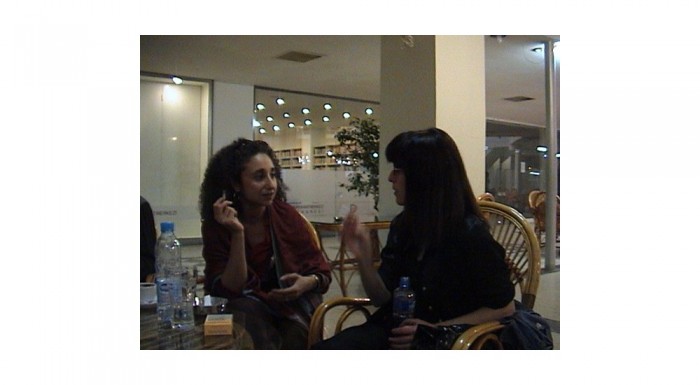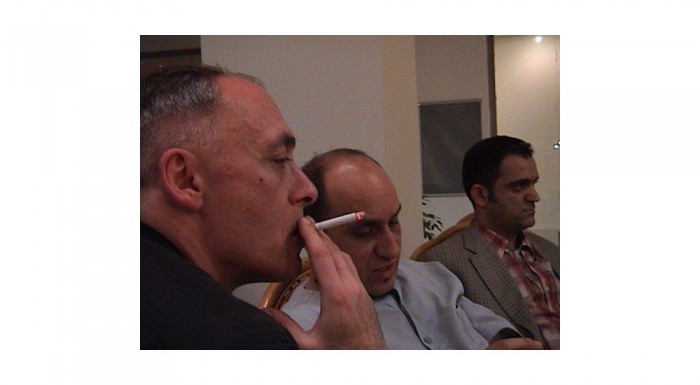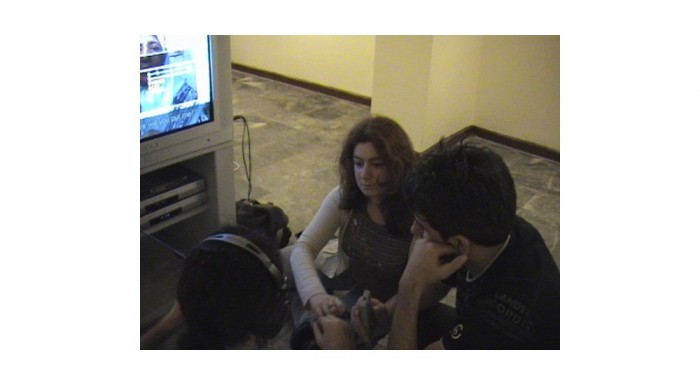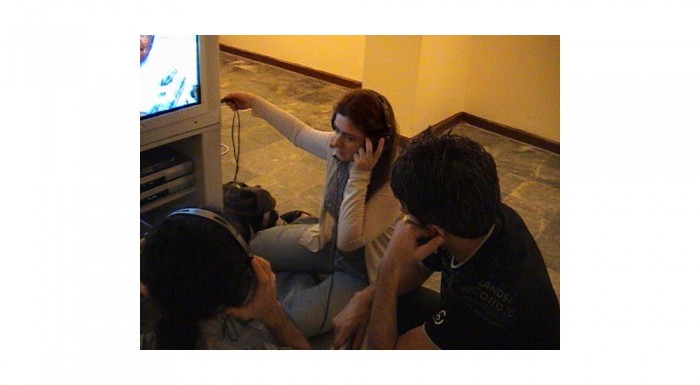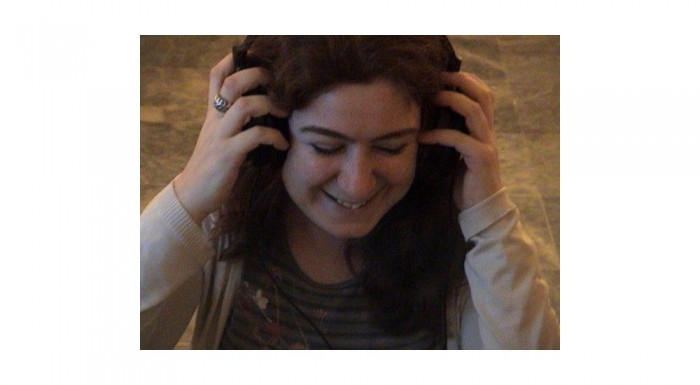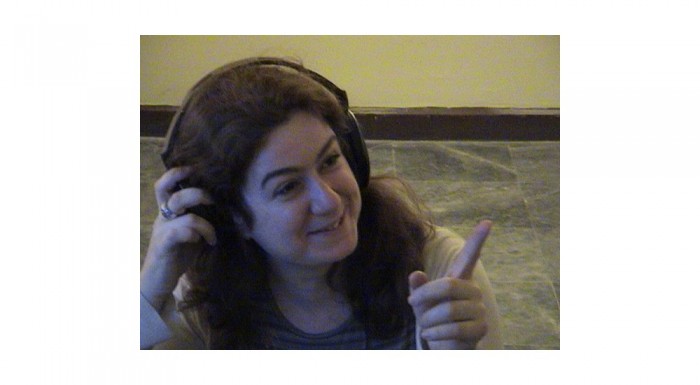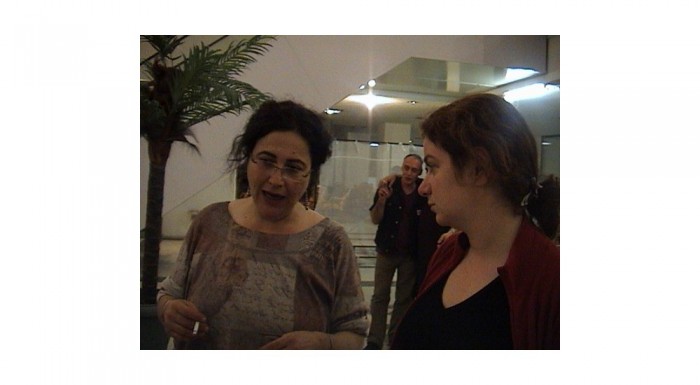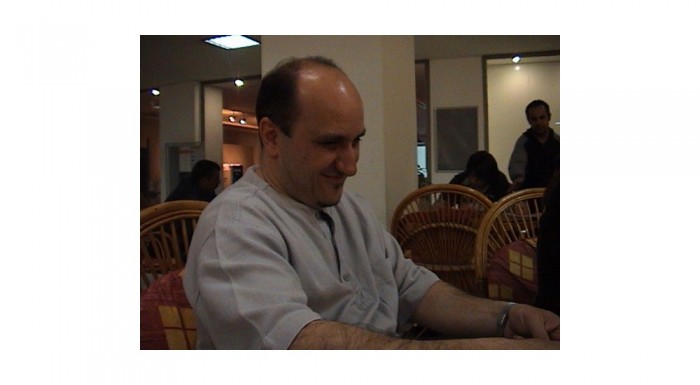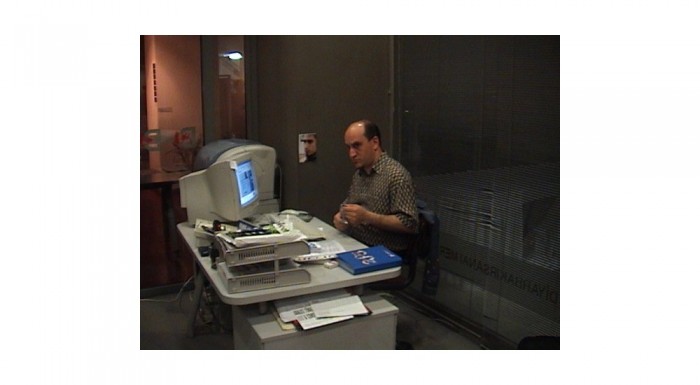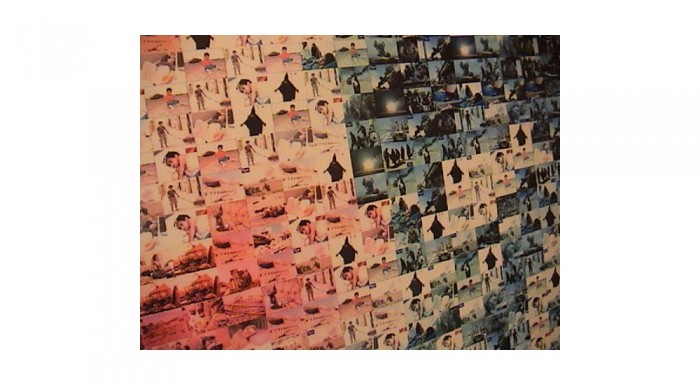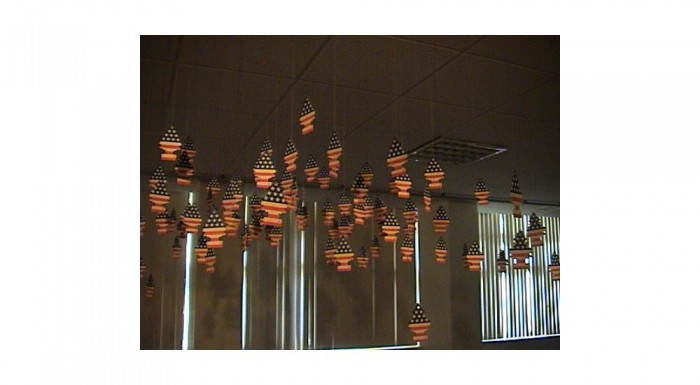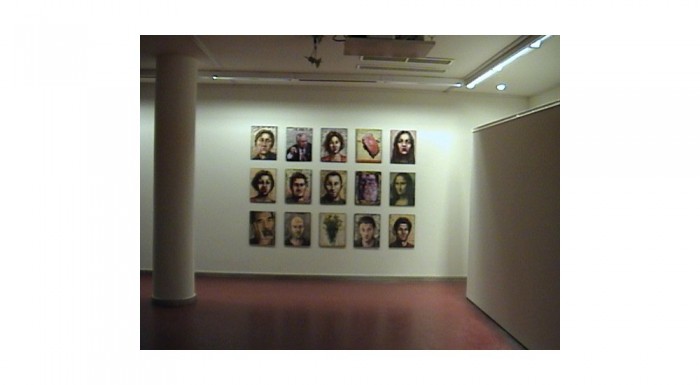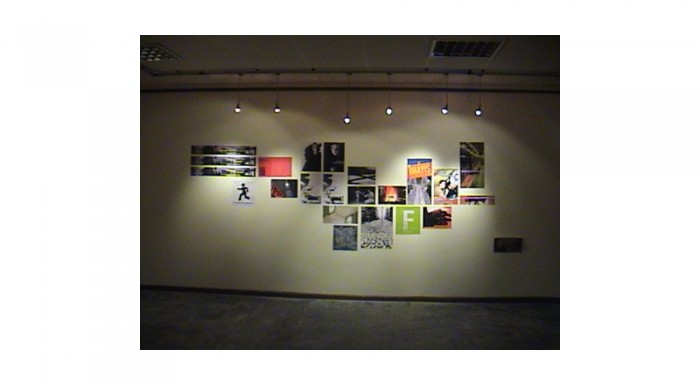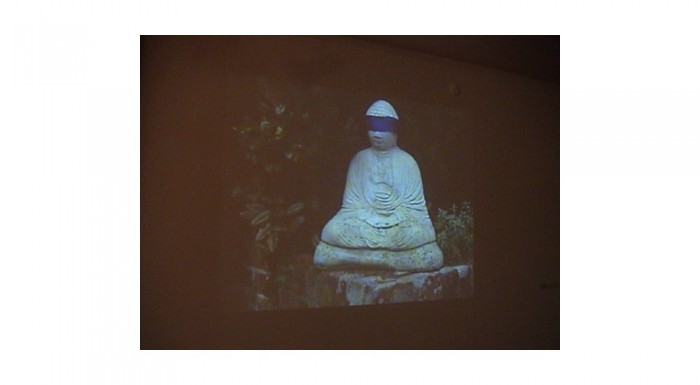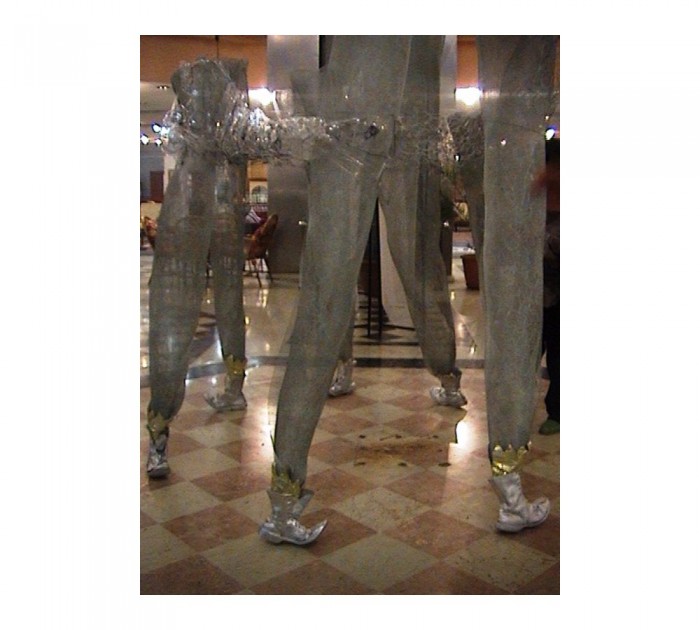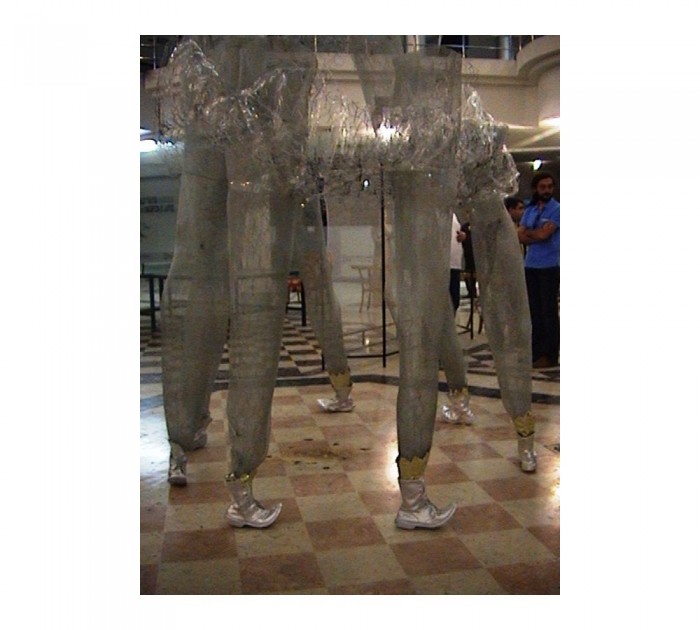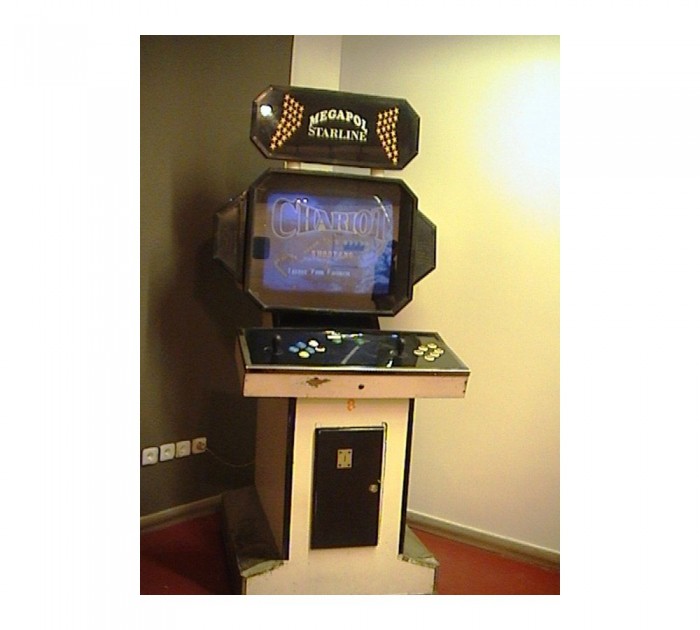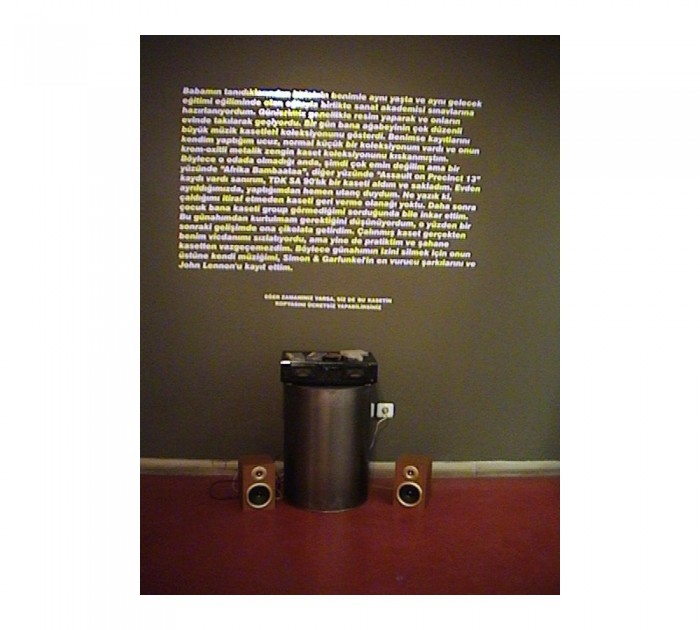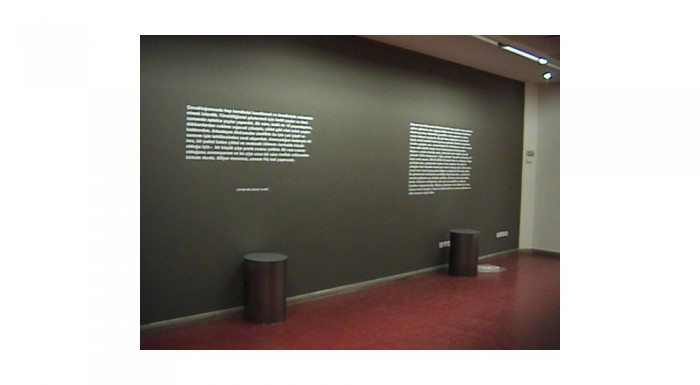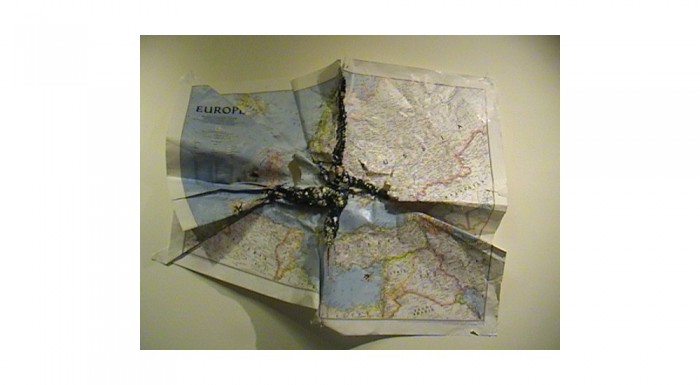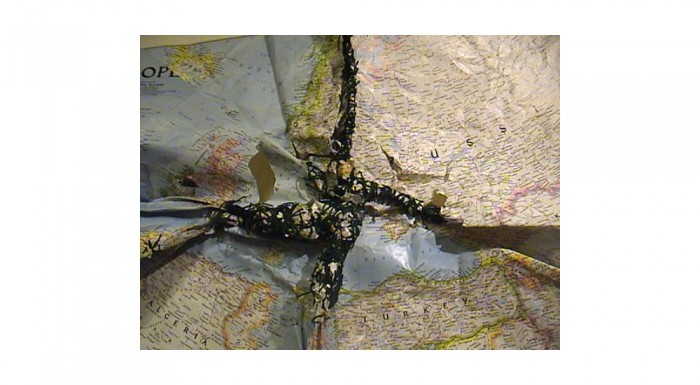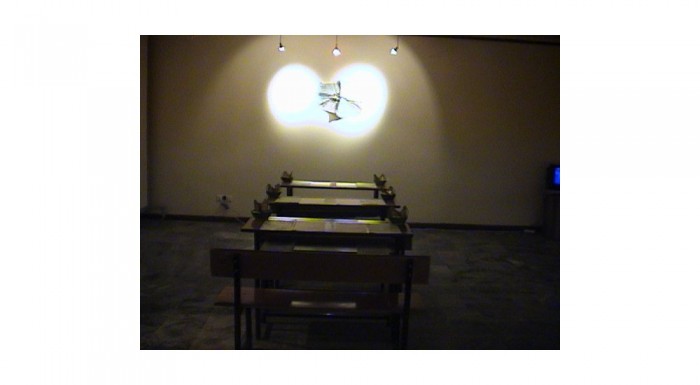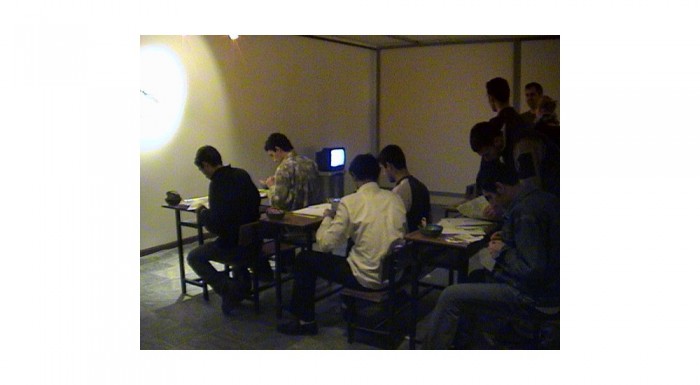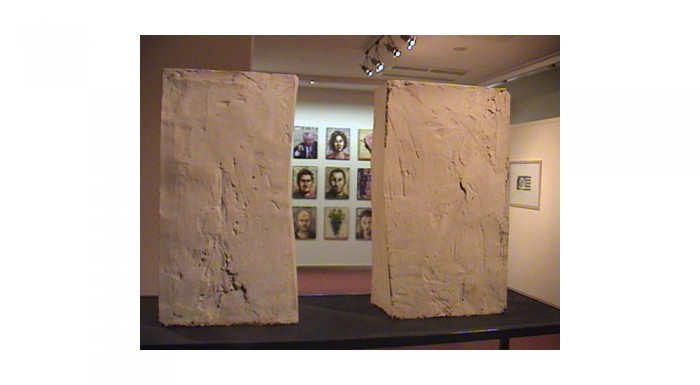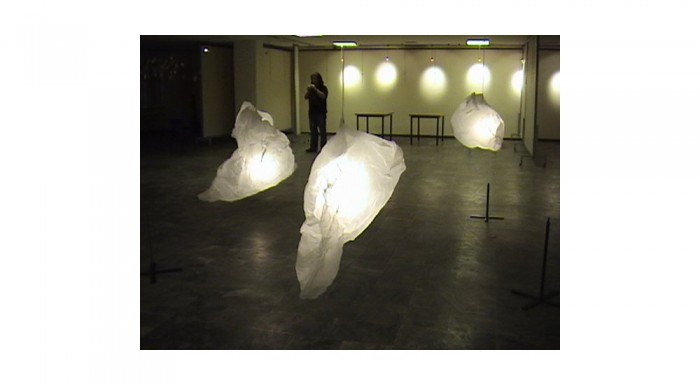 A CONSUMPTION OF JUSTICE
A Meeting and Exhibition of Artists in DİYARBAKIR.
ALI AKSAKAL, Diyarbakır; RUBEN AREVSHATIAN, Yerevan;  MAHA ABU AYYASH, Amman;  EVRENSEL BELGİN, Istanbul; ANDREJ DERKOVIC, Sarajevo; HEBA FARID, Cairo; LAMIA JOREIGE, Beirut; BASSAM AL KHOURI, Damascus;   PANAYIOTIS MICHAEL, Nicosia; OLIVER MUSSOVIK, Skopje; BEHRANG SAMADZADEGAN, Teheran; ZEHRA ŞONYA, Lefkoşa; ILIKO ZAUTASHVILI, Tbilisi
Curator: Beral Madra
The exhibition is organized by Anadolu Kültür AŞ and supported by Prinz Claus Foundation.
May 2005, DİYARBAKIR ART CENTER
CONCEPT
The exhibition "A Consumption of Justice" will bring together artists with current art and culture production from the Balkans, South Caucasus, Middle East and East Mediterrenean in Diyarbakır, to be launched in Diyarbakır Art Center, and the Art Gallery of the Municipality of Diyarbakır.
This exhibition is an endeavour to extend a fundamental network of neighbouring countries with common historical background, current political and economical interests and inherent social / cultural exchange. The intrinsic idea of this network generates from the artists themselves, who are determined to make dream and reality became equated in this region of the world, to overcome the drastic transformations and traumas, to overpower the machinery of corporate ideology and to master the everyday life with creativity and alertness.
There are many definitions and meanings of justice. From the early philosophers on (Socrates and Plato, Aristotle) the concept of justice has been discussed.  Socrates was charged with impiety – which is has become common charge nowadays in Christian and Muslim societies. He said "Where there is piety there is justice, but there is not always piety where there is justice".  Socrates sees that if piety is a division of justice, then justice must be supreme to all other virtues.
Can we say now that the Christian and Muslim societies resolve their concept of justice within the confinement of virtue?
Plato improved the idea of justice in The Republic. He argued that justice is the triumph of the stronger over the weaker, which looks very true concerning the global political landscape we are living in. Again, we cannot be convinced with Socrates' argument that justice is to give to each what he is owed, because global capitalism gives to each according to what he consumes and not according to what he produces.
We can discuss other ideas of Socrates, such as "injustice is a force that can cause disunion that can exist in any society" or " when human beings come together in communities, it is absolutely imperative that some form of justice exists between them or else there will never be any form union in that community". Nowadays injustice creates new communities even if they are not legal communities in the sense of legal world order.
Or we can reflect on Plato's words such as "when the society's sanctions are left out of consideration injustice pays better than justice does" and remember that under political manipulations a society can favour injustice.
Plato also says that justice is the supreme social virtue, it must be cooperation; humans living together are natural, hence justice is natural. These thoughts take us to the idea that with justice human societies can achieve happiness.
Aristo also says that justice is the highest human achievement.  He discerns four models of justice distributive, corrective, rectifying and proportional which is very much associated to the modern democracies or western legal systems.
There are grim realities in our world. Injustice in its many forms creates fear and makes people revengeful, hostile, greedy, violent. Internal and external conflicts, disproportionate power create threats and terror and devastate societies and nations. However, to our relief, there are justice seeking movements that try to transform the malformed or distorted systems. The concept "restorative justice" which is currently the issue in the world forums intends to restore the past and present conflicts of justice in different social systems.  The most significant concern within the restorative justice is to eliminate vengeance orientations in resolving the conflicts in economic, political and social law structures, particularly extended into those between racial and ethnic groups of neighbour nations.
Restorative justice – a kind of resistance field against war and terrorsim – questions the identity and the position of the victim, the intention of the punishment, the credibility of true healing of forgiving and forgetting, the infliction of pain and punishment on the victim, the consequences of economic injustice, the consciousness of the public on law and punishment. In this sense, restorative justice is also a kind of restoration of memory and instigates a new wisdom for truth telling, repenting, forgiving, and mental healing.
In 1988, in the famed "A Discussion" Beuys was saying "…but we have to talk about a  future culture understanding, which generates from the art; since it cannot any more generate from another level of the society. This understanding neither generates from the propelling economic power nor from the justice; since in there the money lays in the state of absolute injustice. That means, the money is not a passport for the justice and responsibilities. In it anarchistic for those who can make a gain out of it; since he/she can have everything on the expenditure of the other. And when no production takes its course, the war will be inflamed, arms will be produced; obviously this is always a good business". Re-thinking Beuys is not a popular exercise, but the current world affairs still leads us to his ideas and to the truth that artists are indeed far sighted and visionary; despite the globalisation trends procreated by the art business/business art system, which places the artist into the transitory context.
Curiously enough, the same art system with all its new and refined strategies and statements sifted its dust of modernism and pursued a reconciliation ground for mutual understanding between the artists of different territories and cultures. This kind of prosaic expressions of many curators since the end of the 80's was based on the apparently idealistic principles of globalisation.  During the many experiences in and out of the biennials, multi-culture exhibitions, workshops, seminars and forums, particularly during the unity ofEurope, many artists of the post-periphery were in rosy expectations. The process is still going on, but with strategic changes in defining the position of the de-territorialized artist. At the beginning the pregnant concepts such as "the other", "the emigrant", "Diaspora" were popular and promising and, the modernist borders seemed to melt away. Successively the tone and colour of the exhibitions and other cultural encounters became pallid for those who looked for subsequent practices and possibilities, when not to say for the admission into the art market, precisely empowered by the multinational companies and Western private enterprise. Gradually, it was understood, that the tender hand of the curator extended to the artist, was not sufficient to transform the prevailing systems of the Post-Soviet countries and the Muslim Nation States.
There is no commensurate cultural life in the world, even if the corporate structure in the form of globalisation is forging it to be. The art and culture network of the EU is flourishing. The aesthetic realms of EU and North America formulating, when not dictating ideologies, concepts and trends with their vast culture industry of museums, art-centres, galleries, foundations, collectors, and publications. The artists on the perimeters of this system, with their traditionally diverse and abundant inspirations are either entitled to surf into the waves of the system or use their energy to exploit it for a prerogative. To close the gap between an accomplished extrovert system and a decayed introvert system exposes a new conflict of injustice. It is a paradox that they have the task to master the consumption of justice in culture and art; when ideology of consumption is what they challenge and justice is what they pursue for.
On the other hand, contemporary modes of xenophile on the
international art market, their tacit epistemological hierarchies and the conceptual challenges they raise. Ethnic Marketing in the common sense of the term refers to the practice of pinning down the taste and buying power of a non-western minority.
The crux of our exhibition is to reassess Ethnic Marketing practices, and flip the usual objective on its head. The target ethnicity here is not an Eastern or Southern minority but the West, the Centre of the Real itself. How does Western xenophile work? What does the Euro-American art circuit wish to buy, and why does it wish to do so. And what long-term advantages might one derive from such consumer cravings.
I foresee that this exhibition will open up a visual and verbal discussion on justice and injustice in its different forms and create a new platform for dialogue and communication between the artists and intellectuals of our region.
Beral Madra / October 2003-December 2004
27-28 April 2005 Workshop, Diyarbakır Art Center, Diyarbakır, Turkey, "A Consumption of Justice" FERDA KESKİN, BERAL MADRA,BASSAN ALKHOURİ,ALI AKSAKAL, RUBEN AREVSHATIAN, MAHA ABU AYYASH, EVRENSEL BELGİN, ANDREJ DERKOVIC,HEBA FARID, LAMIA JOREIGE, PANAYIOTIS MICHAEL, OLIVER MUSSOVIK, BEHRANG SAMADZADEGAN, ZEHRA ŞONYA, İLIKO ZAUTASHVİLİ AND DUTCH ART INSTİTUE WORKSHOP GROUP
*****************************************************************************
BİR ADALET TÜKETİMİ
DİYARBAKIR'da Buluşma ve Sergi
ALI AKSAKAL, Diyarbakır; RUBEN AREVSHATIAN, Erivan; MAHA ABU AYYASH, Amman; EVRENSEL BELGİN, Istanbul; ANDREJ DERKOVIC, Saraybosna; HEBA FARID, Kahire; LAMIA JOREIGE, Beyrut; BASSAM AL KHOURI, Şam;  PANAYIOTIS MICHAEL, Nikosia; OLIVER MUSSOVIK, Üsküp; BEHRANG SAMADZADEGAN, Tahran;  ZEHRA ŞONYA, Lefkoşa; ILIKO ZAUTASHVILI, Tiflis
küratör:Beral Madra
Mayıs 2005
DİYARBAKIR SANAT MERKEZİ
SERGİ KAVRAMI
'Bir Adalet Tüketimi' sergisi Balkanlar, Güney Kafkasya, Orta Doğu ve Doğu Akdeniz'den sanatçıları ve onların güncel kültürlerini ve ürünlerini Diyarbakır'da Diyarbakır Sanat Merkezi'nde ve Diyarbakır Belediyesi Sanat Galerisi'nde sergilenmek üzere biraraya getirecektir.
Bu sergi ortak tarihsel geçmişi, güncel siyasal, ekonomik çıkarları ve öznel toplumsal kültürel alış-verişi olan komşular arasındaki temel iletişim ağını geliştirme girişimidir. Bu iletişim ağı gereksiniminin içsel düşüncesi, bu bölgede düş ve gerçeği eşitlenmek, korkunç değişimlerin ve darbelerin üstesinden gelmek, çokuluslu şirket ideolojisinin mekanizmasını sindirmek ve günlük yaşama yaratıcılık ve uyanıklıkla egemen olmak isteyen sanatçıların kendilerinden doğmaktadır.
Adaletin bir çok tanımı ve anlamı vardır. En eski filozoflardan bu yana (Sokrates, Plato ve Aristoteles) adalet kavramı tartışılmıştır. Sokrates, bugün Hıristiyan ve Müslüman toplumlardaki bildik dinsel saygısızlıkla suçlanmıştı. O, 'dindarlığın olduğu yerde adalet de vardır, ama adaletin olduğu her yerde her zaman dindarlık yoktur' diyordu. Sokrates, eğer adalet dindarlığın bir bölümüyse, adaleti bütün öteki erdemlerin üstünde görüyordu.
Şimdilerde Hıristiyan ve Müslüman toplumların adalet kavramını erdem sınırları içinde çözdüklerini söyleyebilir miyiz?
Plato 'Cumhuriyet' te adalet düşüncesini geliştirdi. Adaletin güçlünün zayıf üstündeki zaferi olduğunu tartıştı; bu da içinde yaşadığımız küresel siyasal manzara açısından çok doğru görünüyor. Öte yandan, Sokrates'in, adaletin herkeze hak ettiğini vermesi söylemi bize tam olarak inandırıcı gelmiyor; çünkü küresel kapitalizm herkeze ürettiği kadarını değil, tükettiği kadarını veriyor.
Sokrates'in 'adaletsizlik her hangi bir toplumda çözülmeye neden olacak bir güçtür' ya da ' insanlar toplumlarda biraraya gelince, aralarında mutlaka bir biçimde adalet var olmalı, yoksa o toplumda her hangi bir birlik olmaz' gibi öteki düşüncelerini de tartışabiliriz. Günümüzde adaletsizlik yasal sayılan dünya düzeni içinde yasal olmasalar bile yeni topluluklar oluşturabiliyor. Ya da Plato'nun 'toplumun kutsallıkları hesaba katılmadığında adaletsizlik adaletten daha çok yarar sağlar' sözleri üstüne de düşünebiliriz ve siyasal müdaheleler altında bir toplumun adaletsizliği yeğleyeceğini anımsayabiliriz.
Plato, adaletin en yüce toplumsal erdem olduğunu, işbirliği gerektiğini, insanların birlikte yaşamasının doğal olduğunu, dolayısıyla adaletin de doğal olduğunu söylüyor. Bu düşünceler de bizi, adaletin toplumları mutlu ettiği düşüncesine götürüyor.
Aristo da adaletin en yüksek insan başarısı olduğunu söylüyor. O, dağıtımcı, düzeltici, doğrultucu ve oranlayıcı olmak üzere dört adalet biçimi ayırd ediyor, ki bu da modern demokrasiler ve Batı yasa sistemlerini çağrıştırıyor.
Dünyamızda çok acı gerçekler var. her biçimiyle adaletsizlik korku yaratıyor ve insanları intikamcı, düşmanca, hırslı ve yırtıcı yapıyor. İç ve dış çatışkılar, oransız iktidarlar tehdit ve terör yaratıyor ve toplumları, ulusları kahrediyor. Şükür ki, adalet arayan girişimler var ve bunlar kötü yapılanmış ya da bozulmuş sistemleri değiştirmeye çalışıyor. Şimdilerde dünya forumlarında konu edilen 'düzelten adalet' farklı toplumsal yapılar içindeki geçmiş ve şimdiki çatışkıları düzeltmeyi hedefliyor. Düzelten adaletin içindeki en önemli amaç, özellikle birbirine komşu olan ülkelerde ırkçı ve etnik grupları etkileyen ekonomik, siyasal ve toplumsal yasa yapıları içindeki çatışkıları çözerek intikam yönelimlerini yoketmektir.
Savaş ve terörizm karşısında bir direniş alanı oluşlturan düzelten adalet kurbanın kimliğini ve konumunu, cezanın amacını, affetmenin ve unutmanın gerçek sağaltımını, kurbana acı vermenin, onu cezalandırmanın biçimini, ekonomik adaletsizliğin sonuçlarını ve toplumun yasa ve ceza konusundaki bilincini sorguluyor. Bu bağlamda düzelten adalet aynı zamanda belleğin de düzeltmenidir ve hakikati söylemek, pişman olmak, affetmek ve zihinsel sağaltım için yeni bir bilgelik aşılar.
1988'de o ünlü ' Bir Tartışma'sında Beuys "ancak, toplumun başka bir katmanından çıkmayacağına göre sanattan çıkacak bir gelecek kültürü anlayışı üstüne konuşmalıyız. İçinde saltık adaletsizlik durumundaki parayı barındırdığı için bu anlayış ne ekonomik itici güçten ne de adaletten çıkacak. Bu, paranın adalet ve sorumluluklar için bir pasaport olmadığı anlamına geliyor. Bu işten kazanç sağlayanlar için para anarşi kaynağıdır; çünkü o kişi herkezin zararına bir kazanç sağlar. Eğer üretim sürmüyorsa, savaş alevlenir, silahlar üretilir; çünkü bu da her zaman çok karlı bir iştir' diyor. Şimdilerde Beuys'u yeniden düşünmek o denli popüler bir egzersiz değil, ama dünyadaki olaylar bizi onun düşüncelrine ve sanatçıların gerçekten uzak görüşlü ve öngörülü olduğu gerçeğine yönlendiriyor; sanatçıyı geçici/kalımsız bir ortama yerleştiren sanat olarak iş/iş olarak sanat sistemi tarafından döllenen küresellik eğilimlerine karşın'
Tuhaftır, bütün yeni ve zarif stratejileri ve söylemleriyle aynı sanat sistemi üstünden modernizmin tozunu silkti ve farklı coğrafyalar ve kültürlerdeki sanatçılar arasında bir uzlaşma zemininin peşinden koştu. Anlaşılan, 80'li yılların sonundan bu yana bir çok küratörün bu tür sıkıcı ifadeleri küreselliğin ülküsel ilkelerinde temelleniyor. Özellikle Avrupa Birliği kuruluş aşamasında bienallere, çok kültürlü sergilere, çalıştaylara, seminerlere ve forumlara katılan bir çok çeper sanatçısının pembe beklentileri vardır. Bu hala sürüyor, ancak yersiz-yurtsuz sanatçının konumunun tanımlanmasında stratejik değişimlerle. Başlangıçta 'öteki', 'göçebe', 'diaspora' gibi doğurgan kavramlar çok popülerdi ve umut vericiydi, ve modernist sınırlar adeta eriyip gidiyordu. Çokuluslu şirketler ve Batı özel sektörü tarafından işletilen sanat piyasasına girmek demeyelim de, daha ileri uygulamalar ve olanakları bekleyenler için diyelim, sergilerin ve başka kültürel karşılaşmaların tınısı ve rengi giderek solmaya başladı. Yavaş yavaş, küratörün sanatçıya uzanan şefkatli elinin Sovyet-sonrası ülkelerin ve Müslüman ulus devletlerin durağan sistemlerini değiştirmeye yetmediği anlaşıldı.
Çokuluslu şirketlerin küresellik biçimindeki yapısı zorluyor olsa da dünyada eşit değerde bir kültürel yaşam yok. AB'nin sanat ve kültür iletişim ağı çiçek açıyor. Müzeler, sanat merkezleri, galeriler, vakıflar, koleksiyoncular ve yayınlardan oluşan sınırsız kültür sanayileri ile AB ve ABD estetik kırallıkları ideolojileri, kavramları ve eğilimleri emretmiyorsalar bile formülleştiriyorlar. Bu sistemin çeperindeki geleneksel, çeşitli ve zengin esin kaynaklarına sahip olan sanatçılar, ya bu sistemin içinde sörf yapmaya ya da enerjilerini imtiyazlı bir durum için kullanmaya hak kazanıyorlar. Burada, tamamlanmış dışa dönük bir sistem ile, bozulmaya yüz tutmuş içe dönük sistem arasındaki açıklık yeni bir adaletsizlik yaratıyor. Tüketim ideolojisine karşı çıktıkları ve adalet peşinde koştukları halde, sanatçıların sanat ve kültürde bir adalet tüketiminin üstesinden gelmek zorunda olmaları bir çelişkidir. Ne ki bu çelişkiden de ilginç sanat metaforları doğmaktadır.
Bu serginin, adalet ve adaletsizliğin çeşitli biçimleri üstüne sözsel ve görsel bir diyalog açacağını ve bölgemizdeki sanatçılar ve aydınlar arasında yeni bir iletişim platformu başlatacağını umut ediyorum.
Beral Madra ekim 2003-kasım 2004