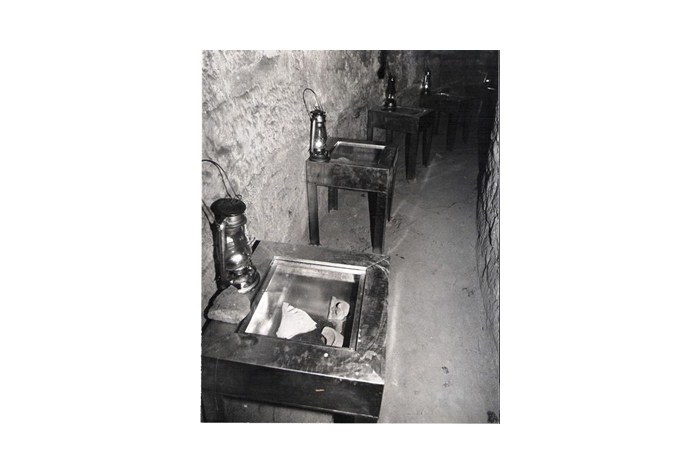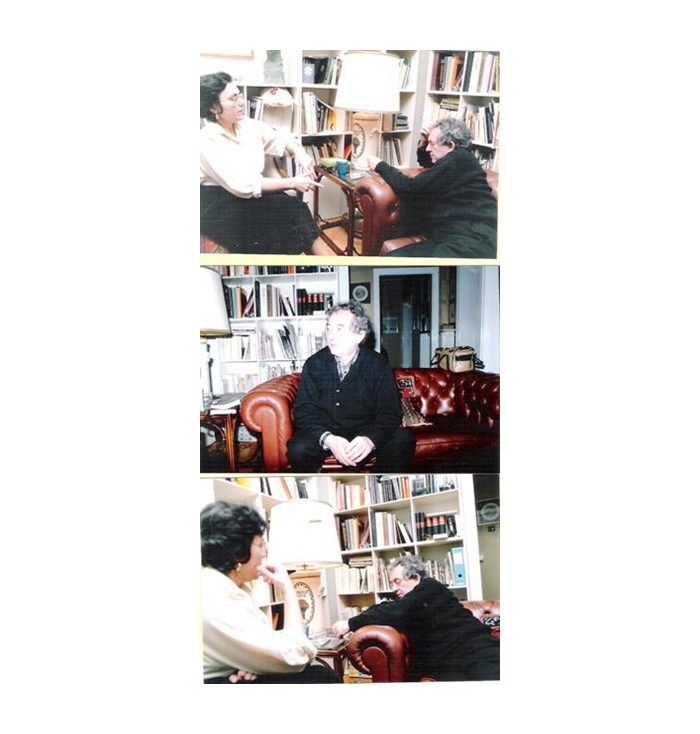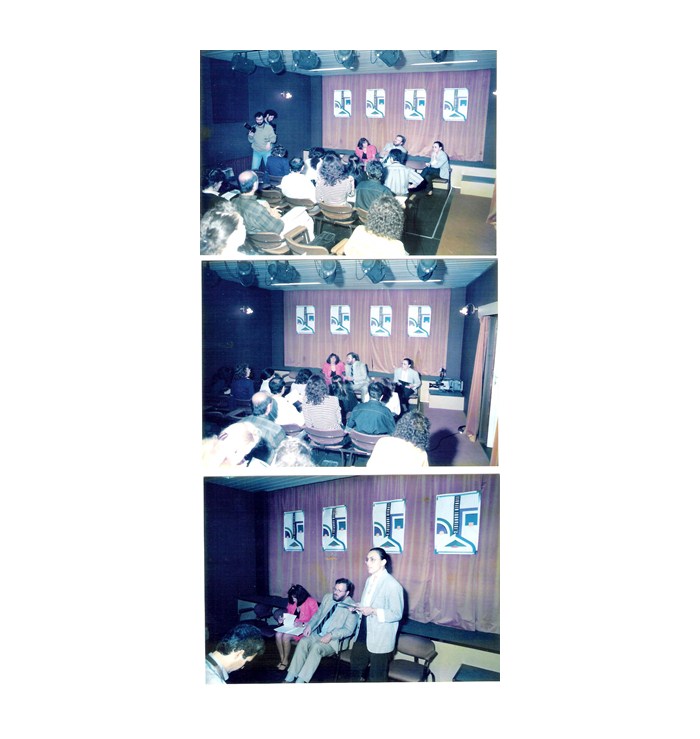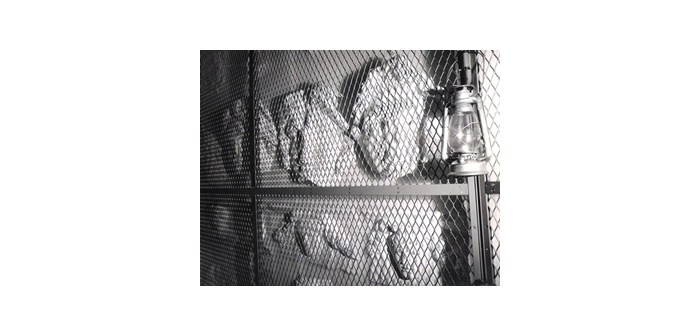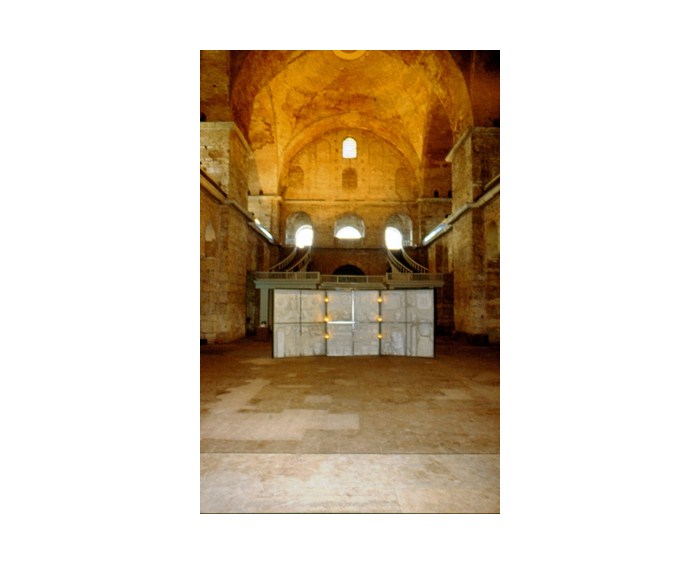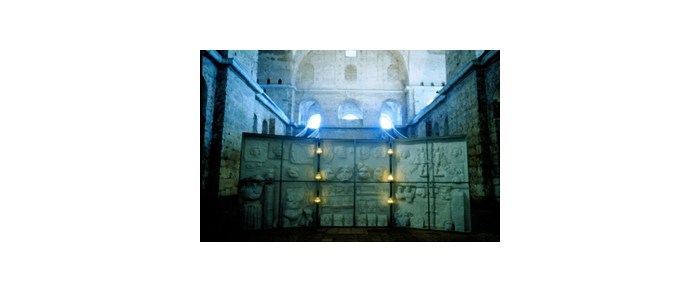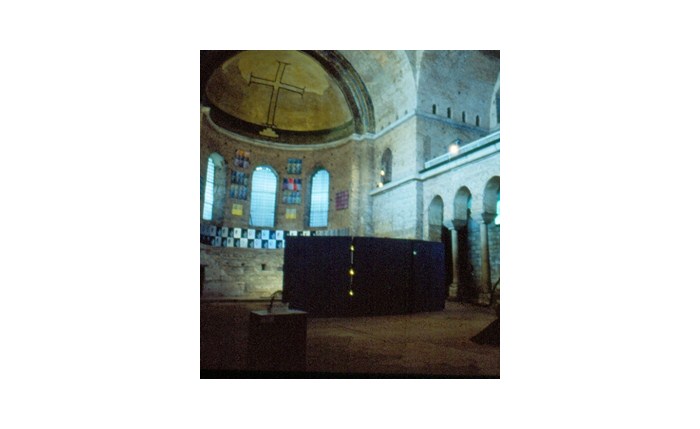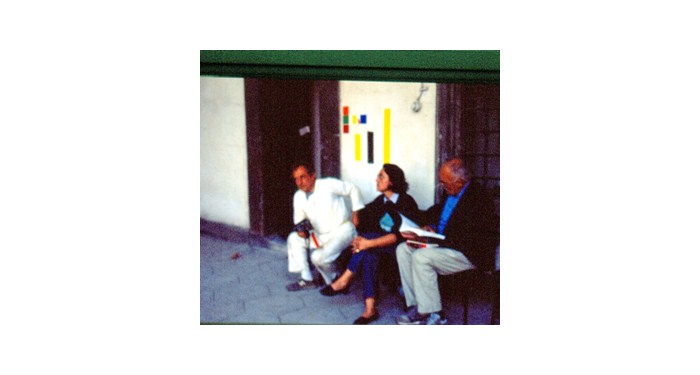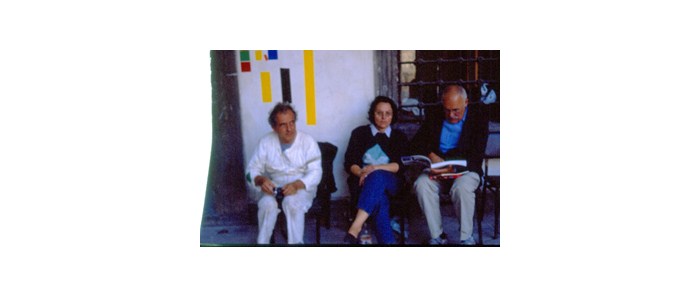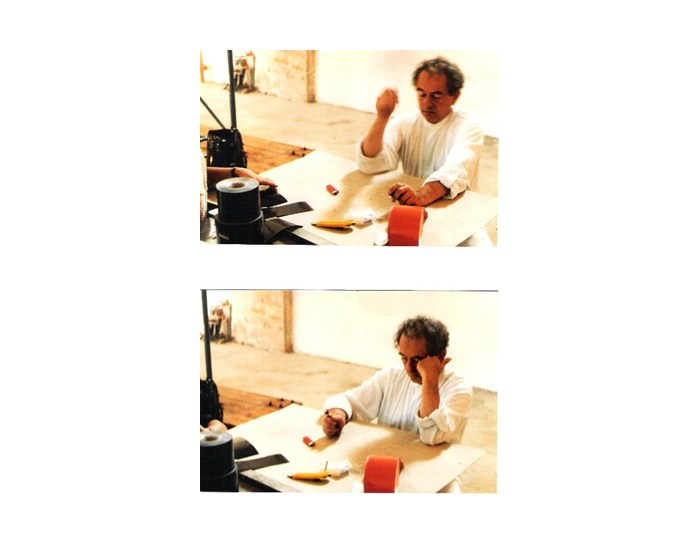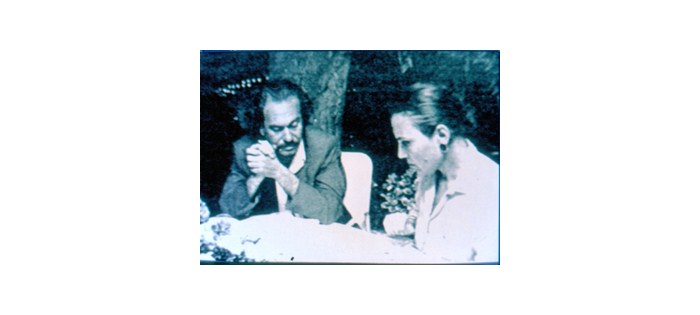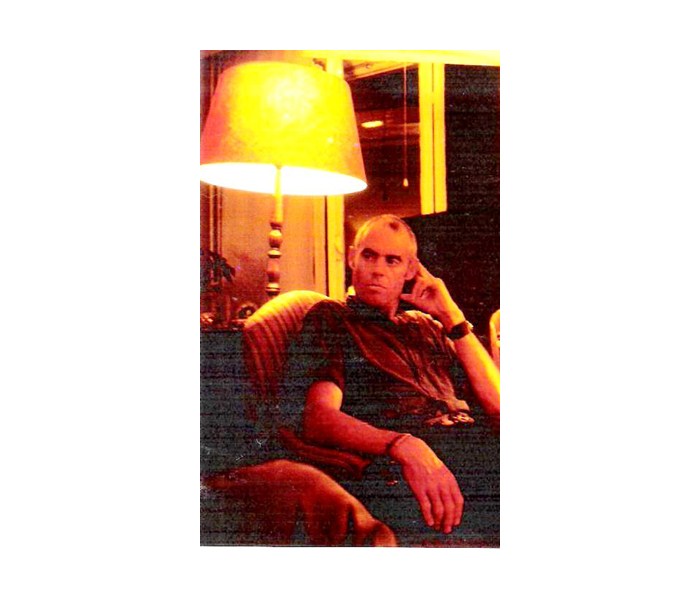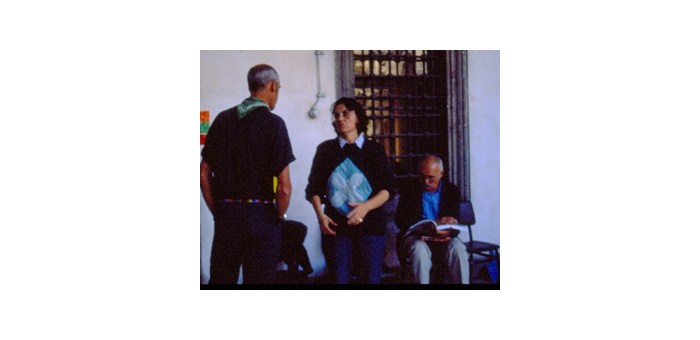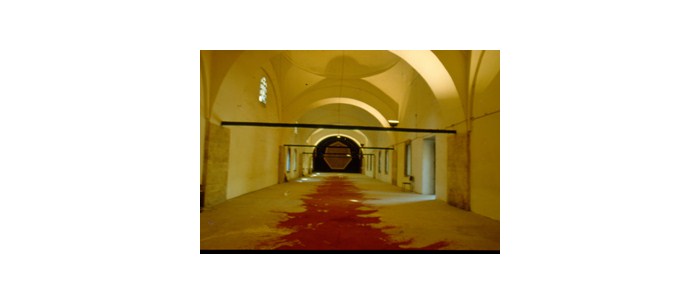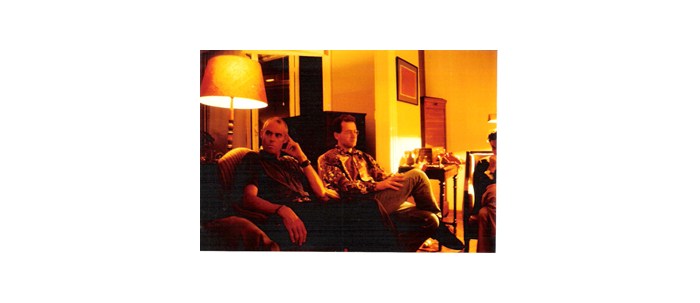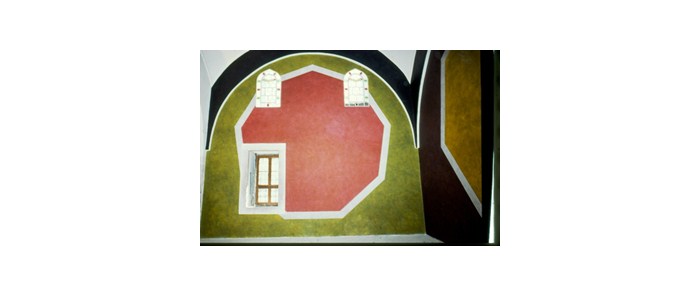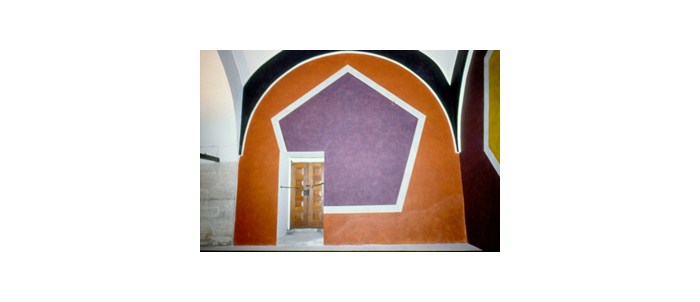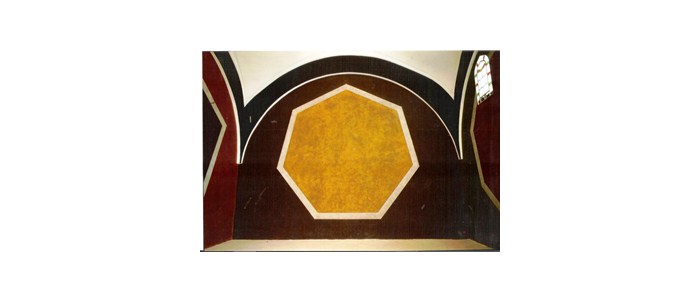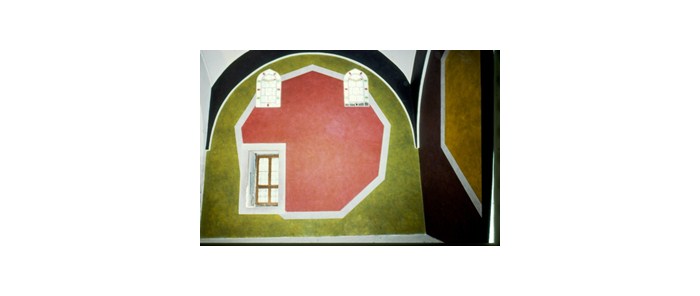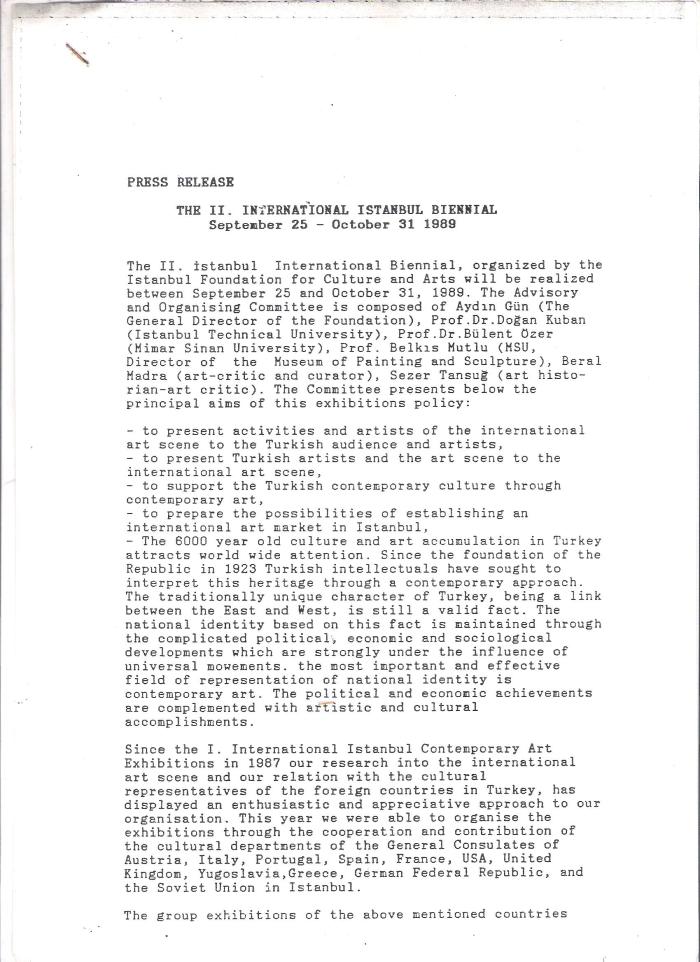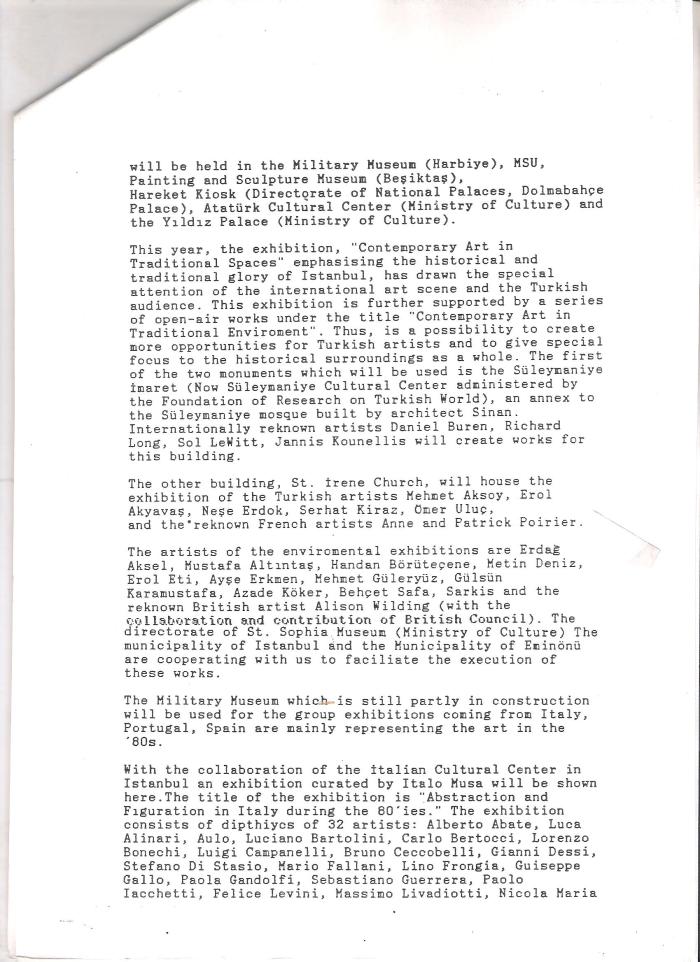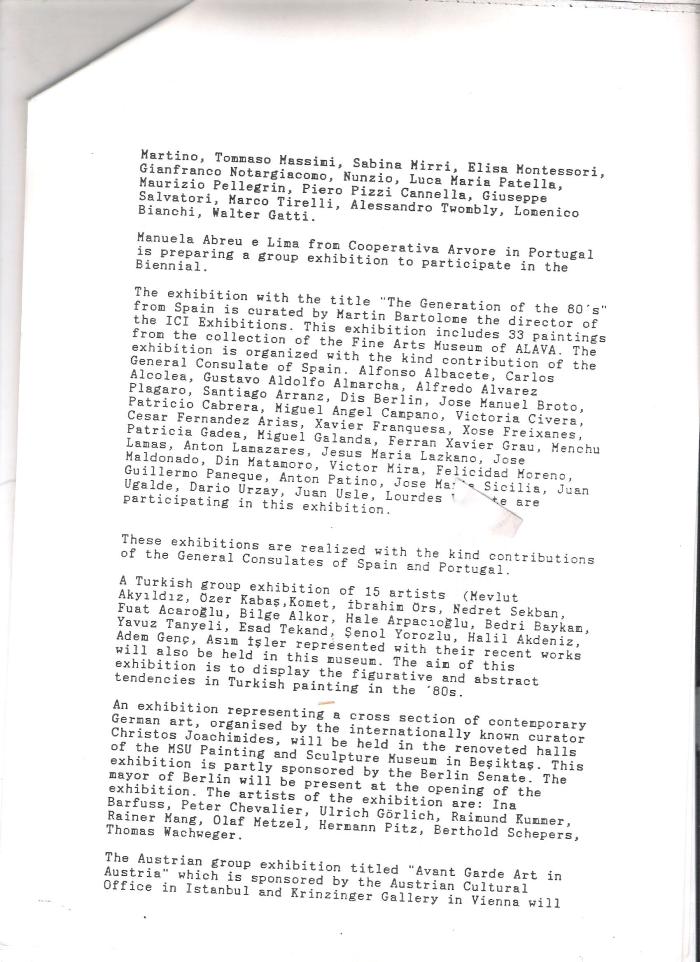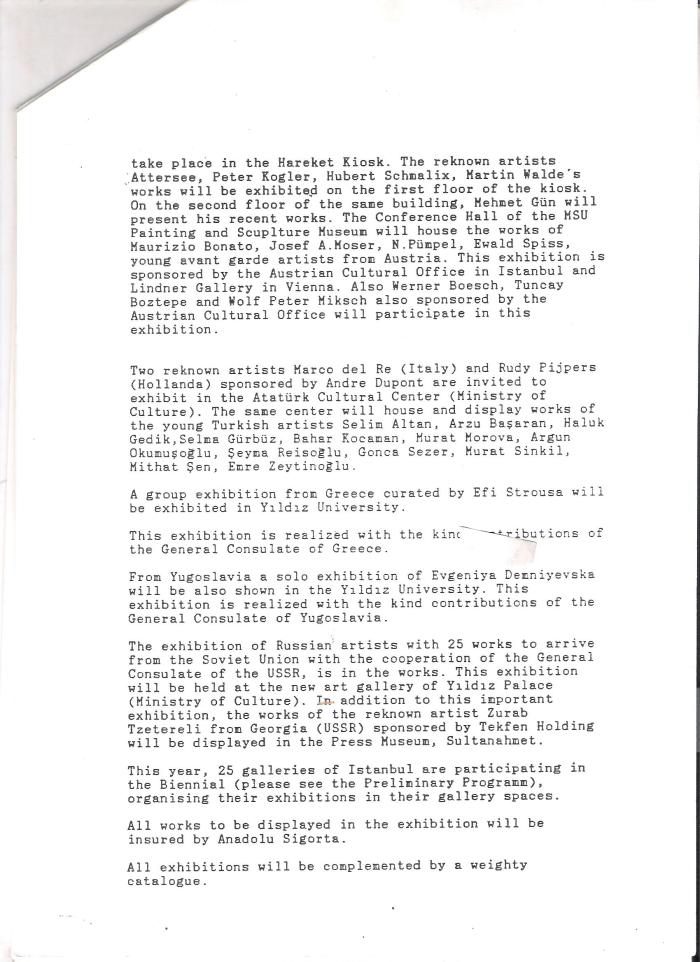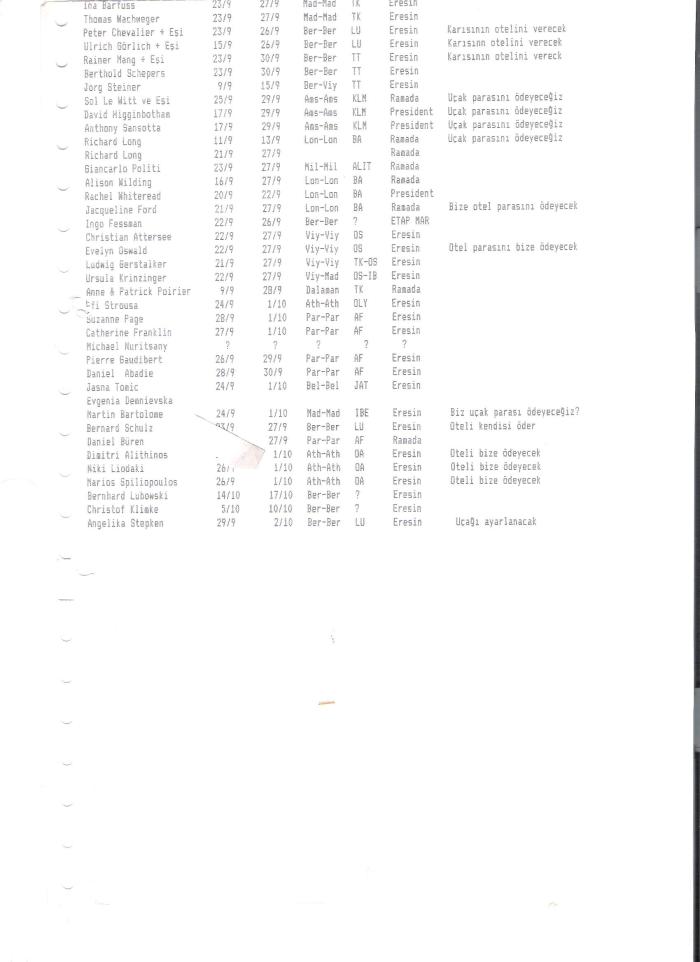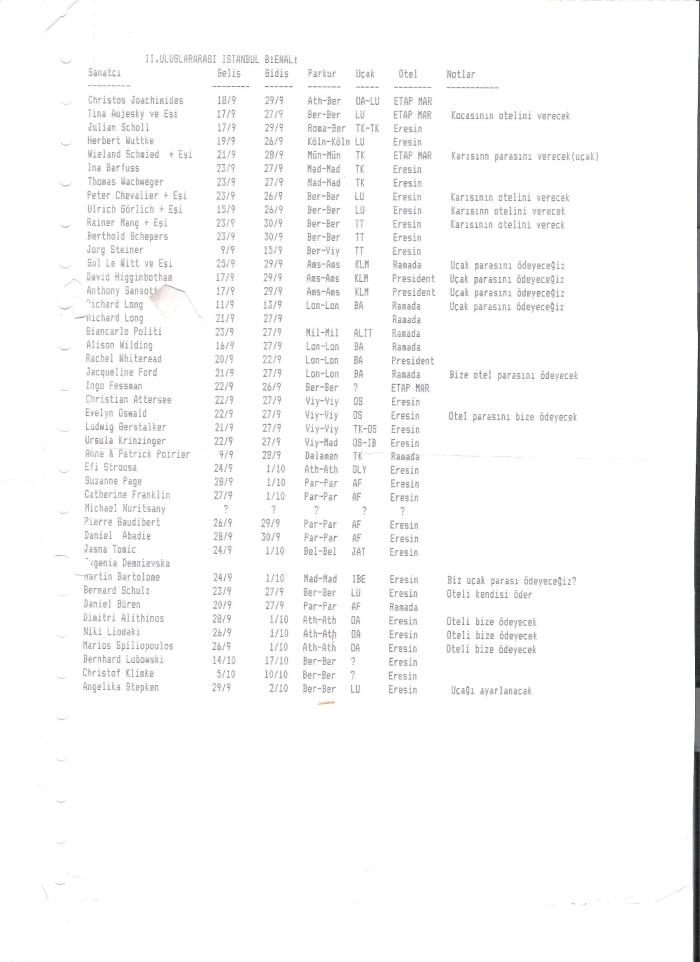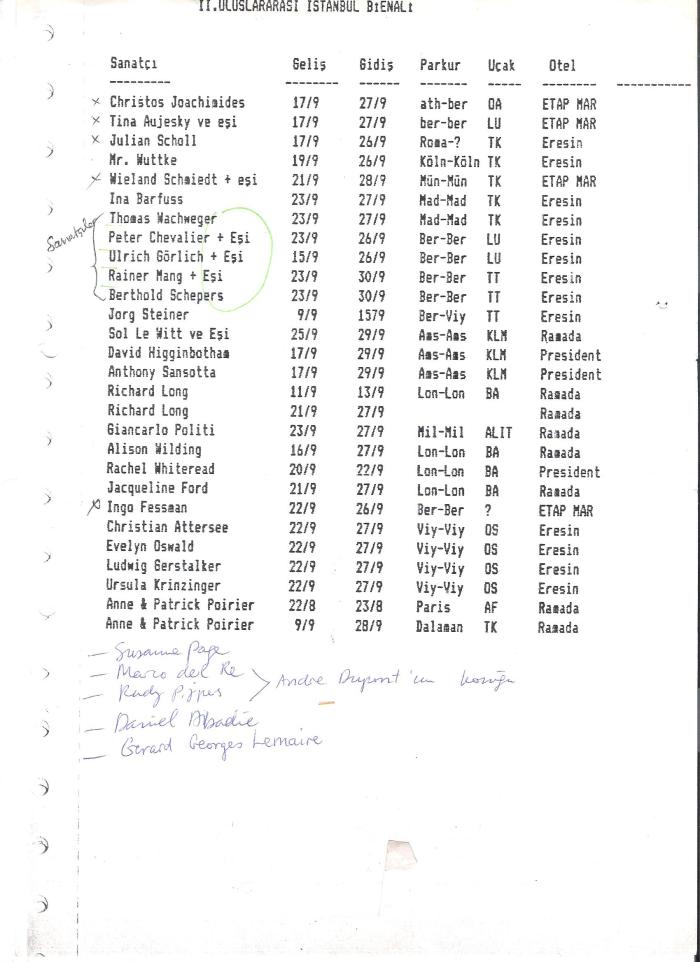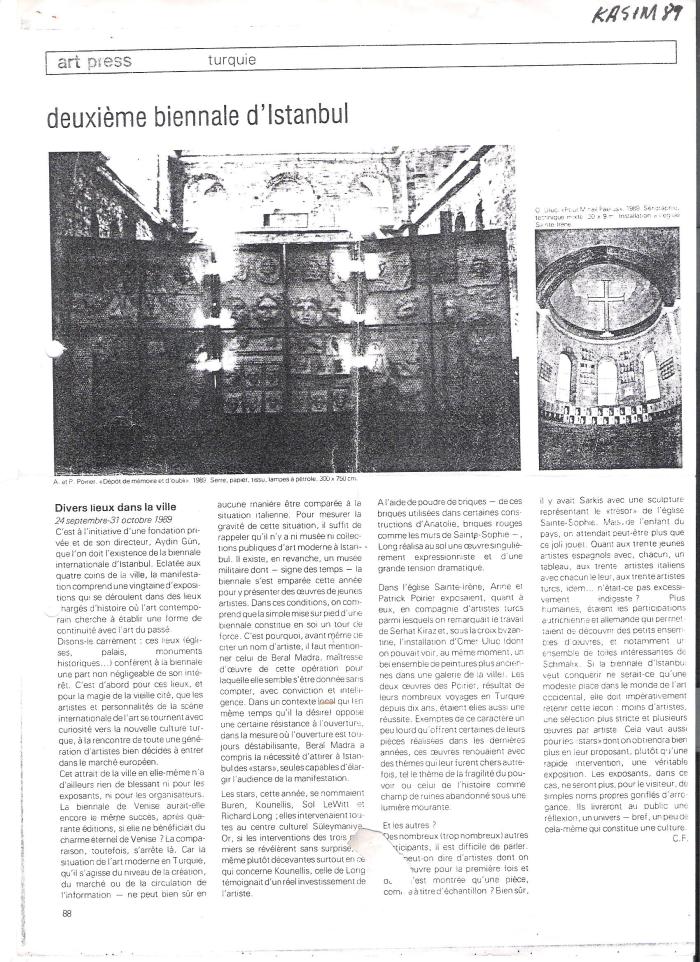 2nd Istanbul Biennale /2. Istanbul Bienali
25 September/Eylül-31 October/Ekim 1989
"Contemporary Art in Traditional Spaces / Geleneksel Yapılarda Çağdaş Sanat"
Advisory Committee/Danışma Kurulu:
Aydın Gün, Prof. Doğan Kuban, Beral Madra, Prof Belkıs Mutlu, Prof. Bülent Özer, Sezer Tansuğ
Executive Committee/Uygulama Kurulu:
President/Başkan: Aydın Gün
General Coordinator / Genel Sorumlu: Beral Madra
Sponsor:
Asil Nadir
St.Irene / Aya Irini
Mehmet Aksoy, Erol Akyavaş, Neşe Erdok, Serhat Kiraz, Anne & Patrick Poirier, Ömer Uluç.
Imaret of Suleymaniye / Süleymaniye İmareti
Daniel Buren, Richard Long, Sol Lewitt, Jannis Kounellis.
Curator Beral Madra; Asistant to the curator: Vasıf Kortun
Contemporary Art in Traditional Environment / Geleneksel Çevrede Çağdaş Sanat
Public Space in Sultanahmet, Hagia Sophia, and the Cistern / Sultanahmet Açık Alan, Aya Sofya ve Yerebatan Sarayı
Erdağ Aksel, Mustafa Altıntaş, Alison Wilding, Metin Deniz, Erol Eti, Ayşe Erkmen, Mehmet Güleryüz, Gülsün Karamustafa, Azade Köker, Behçet Safa, Sarkis
Nine Artists in Berlin / Berlinli Dokuz Sanatçı
MSÜ Painting and Sculpture Museum
Ina Barrfuss, Peter Chevalier, Ulrich Gorlich, Raimund Kummer, Rainer Mang, Olaf Metzel, Hermann Pitz, Berthold Schepers, Thomas Wachweger.
Curator: Christos Joachimides
Austrian Avant-Garde Art / Avusturya Öncü Sanatı
MSDB Hareket Kiosk
Attersee, Peter Kogler, Hubert Schmalix, Martin Walde
Zurab Tzerelli (Gürcistan / SSR Georgia)
Press Museum/Basın Müzesi, Sultanahmet
Aspects of Abstract and Figurative art in Italy (The Eighties) / İtalya'da Soyut ve Figüratif Sanatın Durumu (Seksenli Yıllar)
Military Museum/Askeri Müze
Alberto Abate, Luca Alinari, Aulo, Luciano Bartolini,Carlo Bertocci, Lorenzo Bonechi, Luigi Campanelli, Bruno Ceccobelli, Gianni Dessi, Stefano di Stasio, Lino Frongia, Giuseppe Gallo, Paolo Gandolfi, Sebastiano Guerra, Paolo Iachetti, Mario Fallani, Massimo Livadiotti, Nicola Maria martino, Tommaso Massimi, Sabina Mirri, Elisa Montessori, Gianfranco
Curator: Italo Mussa (AICA Italy)
Spain, The Generation of 80's/ İspanya, 80'li Yıllar Kuşağı
Military Museum / Askeri Müze
Alfonso Albacete, Carlos Alcolea, Gustavo Adolfo Almarcha, Alfredo Alvarez Plagaro, Santiago Arranz, Dis Berlin, Jose Manuel Broto, Patricio Cabrera, Miquel Angel Campano, Victoria Cvera, Cesar Fernandez Arias, Xavier Franquesa, Xose Freixanes, Patricia Gadea, Miquel Galanda, Ferran Garcia Sevilla, Alejandro Görnemann, Alfonso Gortazar, Xavier Grau, Menchu Lamas, Anton Lamazares, Jesus Maria Lazkano, Jose Maldonado, Din Matamoro, Victo Mira, Felicidad Moreno, Guillermo Paneque, Anton Patino, Jose Maria Sicilia, Juan Ugalde, Dario Urzay, Juan Usle, Lourdes Vincente. Curator: Martin Barolome (Institute of Iberoamerican Cooperation)
Turkish painting in the 80's / 80'li Yıllarda Türk resmi
Military Museum/Askeri Müze
Fuat Acaroğlu, halil Akdeniz, mevlut Akyıldız, Bilge Alkor, Hale Arpacıoğlu, Bedri Baykam, Adem Genç, Asım İşler, Özer Kabaş, Komet, İbrahim Örs, Nedret Sekban, Yavuz Tanyeli, Esat Tekand, Şenol Yorozlu
Genç Türk Sanatçılar / Young Turkish Artists
Atatürk Culture Center /Atatürk Kültür Merkezi
Selim Altan, Arzu Başaran, Haluk Gedik, Selma Gürbüz, Bahar Kocaman, Murat Morova, Argun Okumuşoğlu, Şeyma Resioğlu, Gonca Sezer, Murat Sinkil, Mithat Şen, Emre Zeytinoğlu
Marco del Re, Rudy Pıjpers
Atatürk Culture Center / Atatürk Kültür Merkezi
Evgenia Demnievska (Yugoslavia / Yugoslavya)
Yıldız University Sabancı Library / Yıldız Üniversitesi Sabancı Kütüphanesi
Five Greek Artists / Beş Yunanlı Sanatçı
Yıldız University / Yıldız Üniversitesi 
Dimitri Alithinos, Marios Spiliopoulos, Niki Liodaki, Danil, Marina Strapataski.
Curator: Efi Strousa