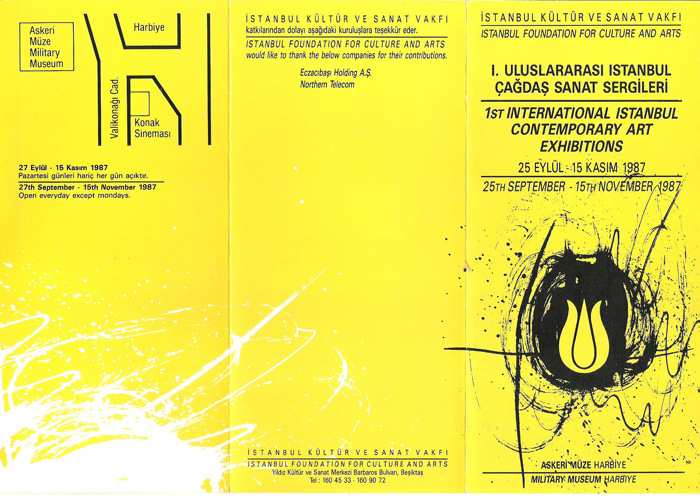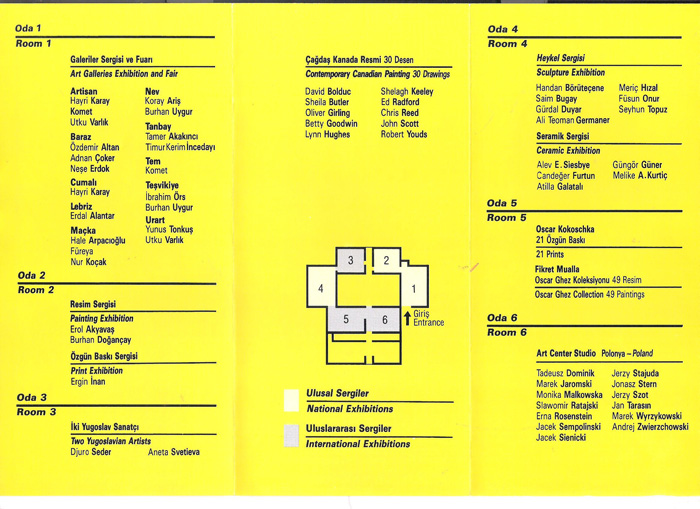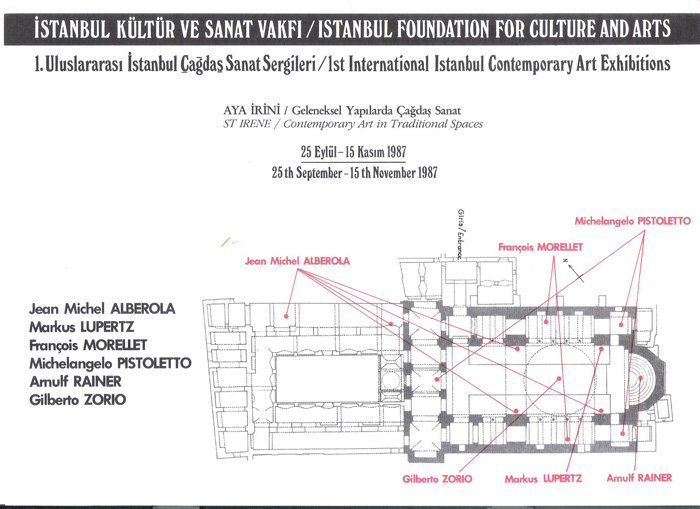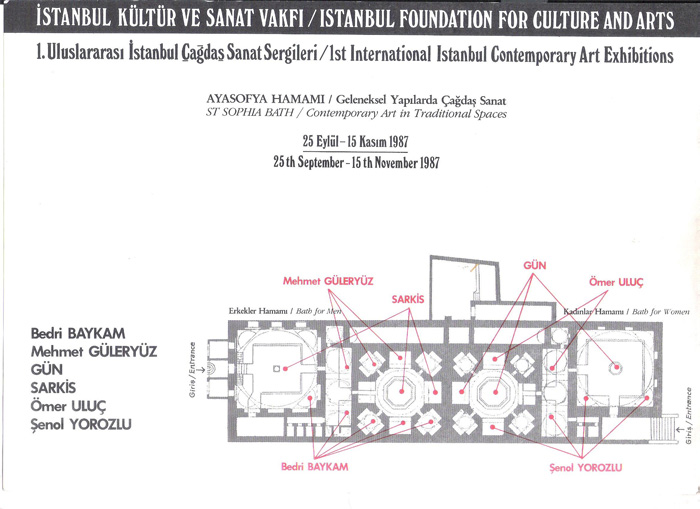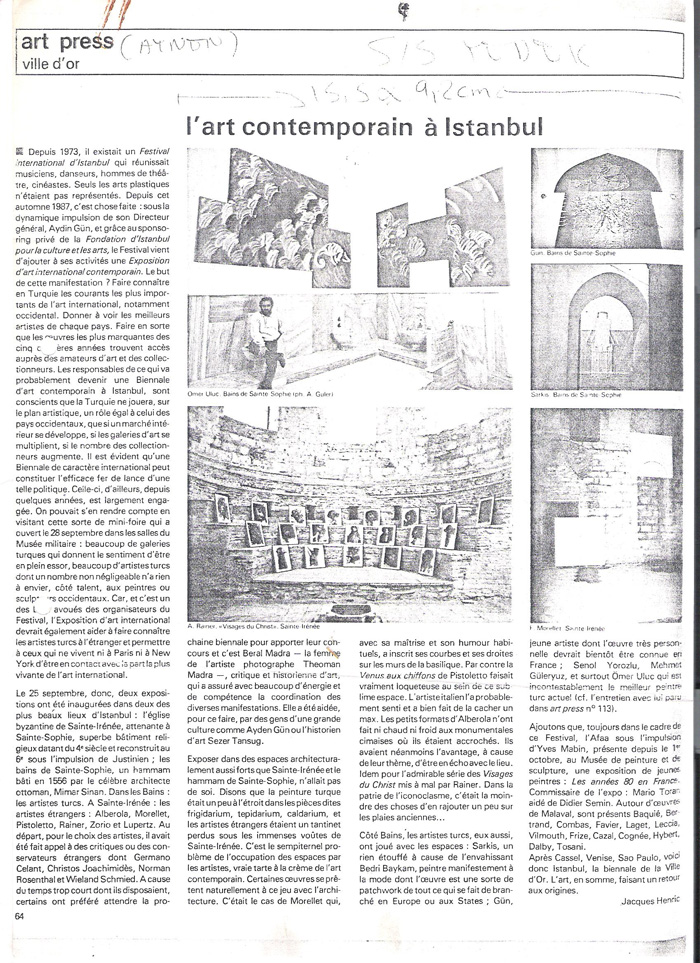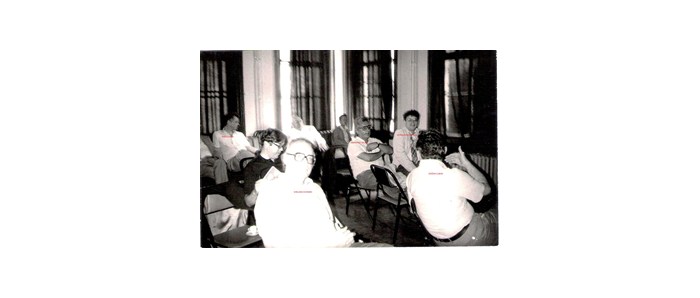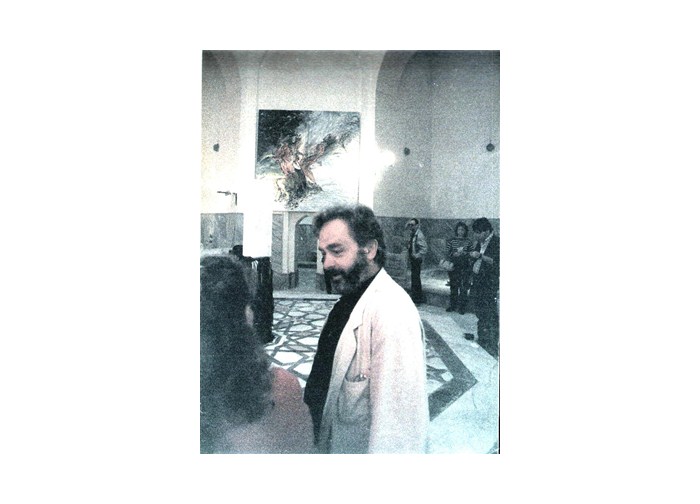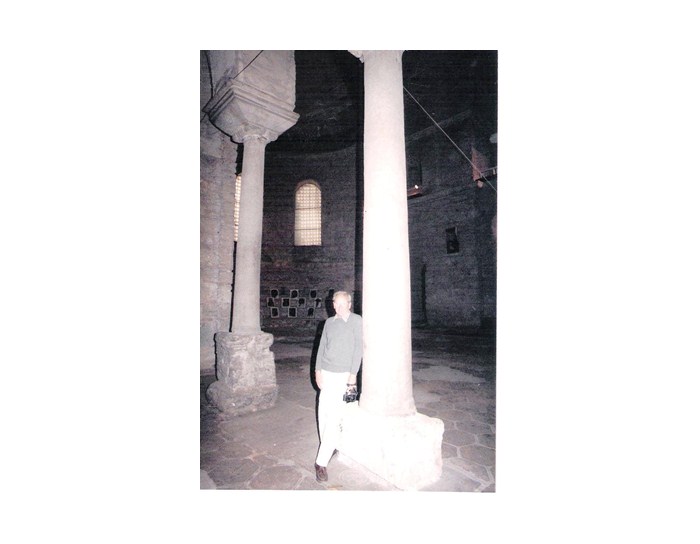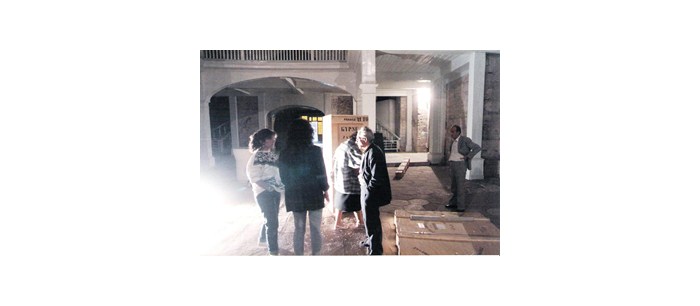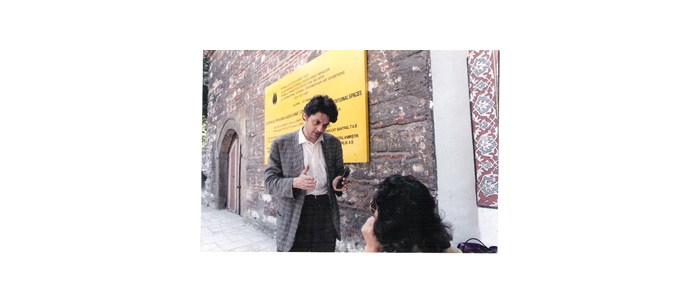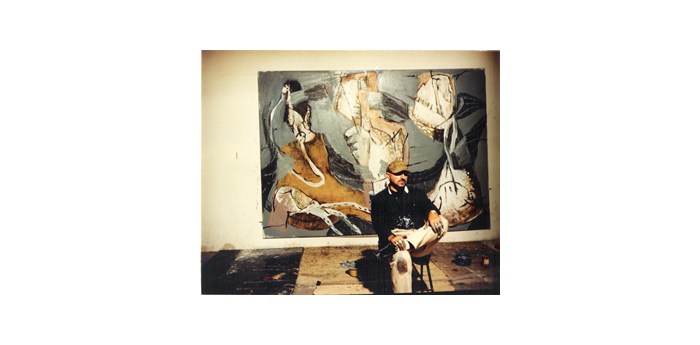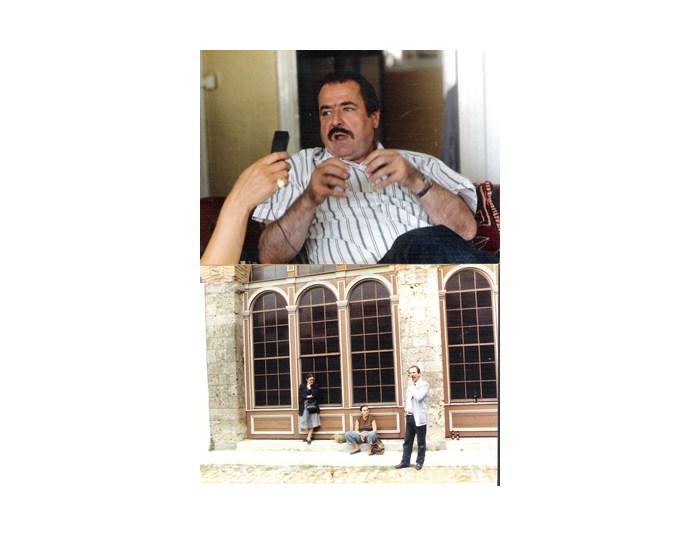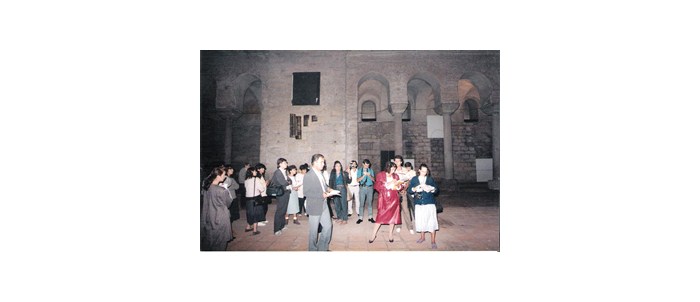 1. INTERNATIONAL ISTANBUL CONTEMPORARY ART EXHIBITIONS
 1. ULUSLARARASI ISTANBUL ÇAĞDAŞ SANAT SERGİLERİ
 (1. ISTANBUL BIENNALE / 1. ISTANBUL BİENALİ)
25 September/Eylül-15 November/Kasım 1987
İstanbul Kültür ve Sanat Vakfı (İKSV)
International Consultative Committee / Uluslararası Danışma Kurulu
Germano Celant, Alexander Grevenstein, Hubert G. Hermes, Christos Joachimides, Norman Rosenthal, Wieland Schmied, Dieter Schrage, Radu Varia
Consultative Committee / Danışma Kurulu
Aydın Gün, Doğan Kuban, Beral Madra, Belkıs Mutlu, Sezer Tansuğ
Coordinator/Genel Sorumlu
Beral Madra
ST. IRENE / AYA İRİNİ
Jean-Michel Alberola, Markus Lüpertz, François Morellet, Michelangelo Pistoletto, Arnulf Rainer, Gilberto Zorio
HAGIA SOPHIA BATH/AYA SOFYA HAMAMI
Bedri Baykam, Mehmet Güleryüz, Mehmet Gün, Sarkis, Ömer Uluç, Şenol Yorozlu
MILITARY MUSEUM/ASKERİ MÜZE
National Exhibitions
Ulusal Sergiler
Ceramic / Seramik: Candeğer Furtun, Atilla Galatalı, Güngör Güner, Melike Abasıyanık Kurtiç, Alev Ebuzziya
Painting / Resim: Erol Akyavaş, Burhan Doğançay
Print / Özgün Baskı: Ergin İnan
Sculpture / Heykel: Handan Börüteçene, Saim Bugay,Gürdal Duyar, Ali Teoman Germaner, Meriç Hızal, Füsun Onur, Seyhun Topuz
Galleries / Galeriler: Artisan Sanat Galerisi,Galeri Baraz, Galeri Lebriz, Maçka Sanat Galerisi, Galeri Nev, Tanbay Sanat Galerisi, Tem Sanat Galerisi, Teşvikiye Sanat Galerisi, Urart Sanat Galerisi
International Exhibitions
Uluslararası Sergiler 
Austria / Avusturya: Oscar Kokoschka
Switzerland / İsviçre: Fikret Muala
Canada / Kanada: David Bolduc, Sheila Butler, Oliver Girling, Betty Goodwin, Lynn Hughes, Shelag Keeley, Ed Radford, Chris Reed, John Scott, Robert Youds
Poland / Polonya: Tadeusz Dominik, Marek Jaromski, Monika Malkowska, Slamovir Ratajski, Erne Rosenstein, Jareck Sempolinski, Jacek Sienicki, Jerzy Stajuda, Jonazc Stern, Jerzy Szot, Jan Tarasin, Marek Wryzwkowski, Andrzej Zwierzchowski
Yugoslavia / Yugoslavya: Djuro Seder, Aneta Svetieva
ISTANBUL PAINTING AND SCULPTURE MUSEUM / İSTANBUL RESİM VE HEYKEL MÜZESİ
Les Annees 80 en France (Une Nouvelle générations d'artistes)
Fransa'da 80'li Yıllar (Yeni bir Sanatçı Kuşağı)  
Comisser artistique / Sanat Görevlisi: Mario Toran
Richard Baquie, Jean Pierre Bertrand, Philippe Cazal, Philippe Cognee, Robert Combas, Eric Dalbis, Philippe Favier, Bernard Frize, Fabrice Hybert, Denis Laget, Ange Leccia, Robert Malaval, Patrick Tosani, Jean Luc Vilmouth.
Contemporary Turkish Painting in Istanbul Collections
İstanbul Koleksiyonlarında Çağdaş Türk Resmi
Contributions:
General Consulates of Austria, France, Canada, Poland, Yugoslavia
For exhibition info texts please click:
For notes on Biennale please click:
Comprehensive texts on 1st and 2nd Istanbul Biennale can be found in:
1. Beral Madra. İki Yılda Bir Sanat: Bienal Yazıları 1987-2003. İstanbul: Norgunk Yayınları, 2003. (in Turkish)
2. Beral Madra. "Conference Text," In İsimsiz (12.Istanbul Bienali), 2011 Remembering İstanbul. Edited by Pelin Derviş. İstanbul: İKSV Yayını, 2011.
Images, 13 all:
Flyer (1 & 2);
Plan of St. Irene and Hagia Sophia Bath (3 & 4);
Art Press text;
International consultants (visit 1986);
Arnulf Rainer;
François Morellet;
Sezer Tansuğ;
Jean Michel Alberol with BM;
Markus Lüpertz;
Michelangelo Pistoletto-Maria Pistoletto with BM;
press preview.